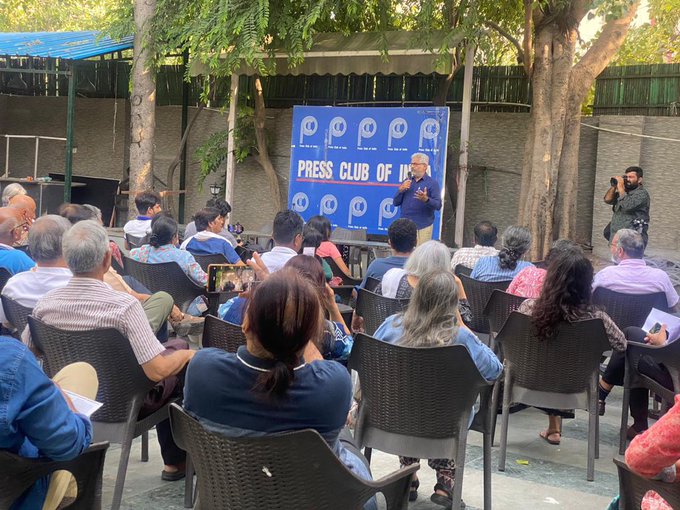 New Delhi: The Delhi Police on Tuesday morning raided the houses of journalists and writers associated with Newsclick, creating a sense of outrage in the media community, who see it as yet another very serious attempt to throttle the voice of the press.
Several press bodies like Indian Women's Press Corps (IWPC), the Editors Guild of India (EGI), and the Press Club of India (PCI) have expressed deep concern over the development. They gave vent to their anger against the raids at a spontaneous meeting held this afternoon in the PCI premises.
In the early morning swoop, a team of the Special cell of the Delhi police landed at the homes of Newsclick founder Prabir Purkayastha, journalists Abhisar Sharma, Bhasha Singh, Urmilesh, Paranjoy Guha Thakurta, cultural activist Sohail Hashmi and several others and seized their phones and laptops.
They did not have any warrants nor gave any assurance that the equipment will not be tampered with. The journalists were also taken to undisclosed locations for 'questioning', the IWPC statement said.
The manner in which the sections of the media are being repeatedly targeted – because they have raised concerns about certain policies of the government as these are not people-friendly – reflects very poorly on a government representing the world's largest democracy, the women's press body said, pointing that the Newsclick had been targeted earlier too.
"The IWPC demands that this harassment of the media by government agencies should stop. A vibrant democracy will never remain vibrant if the media is not given the space to analyse government policies independently. Elected democracies have a greater responsibility to ensure that the media operates in an unfettered manner."
The EGI in a statement described the raids as yet another attempt to muzzle the media. It said that while law should take its course, due process should be followed. Specific offences should be investigated, but it must not crratee an atmosphere of general intimidation of the press under the shadow of draconian laws.
The PCI in a tweet said that it stands in solidarity with the journalists and demanded the government to come out with details.
The New York Times had published a report on an investigation in August this year, which named NewsClick as among organisations funded by a network tied to US millionaire Neville Roy Singham for pushing Chinese propaganda.Two days after the Times report, NewsClick issued a statement in which it denied the allegations as baseless and lacking factual or legal support.
According to reports, the searches at various places connected to NewsClick were carried out based on a case registered on August 17 under the Unlawful Activities (Prevention) Act (UAPA) and other sections of the Indian Penal Code (IPC), including Section 153A (promoting enmity between groups) and Section 120B (criminal conspiracy). – INDIA NEWS STREAM