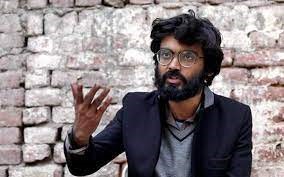 Sharjeel Imam (File photo)
The judge stresses on the need to protect the freedom to dissent
The court came down heavily on the Delhi Police for filing an "ill-conceived" chargesheet
Judge pulls up prosecution and questioned multiple charge sheets filed into the matter
In significant development, a Delhi court on Saturday discharged student leaders Sharjeel Imam, Safoora Zargar, Asif Iqbal Tanha, and eight others in connection with the violence which broke out Delhi's Jamia Millia Islamia in December 2019.
In total, Delhi Police made 12 people accused in the case. Several sections of the Indian Penal Code (IPC) including rioting and unlawful assembly were invoked against them, according to Bar and Bench.
The prosecution failed to apprehend the "actual perpetrators" but made the accused persons "scapegoats", said additional sessions judge Arul Varma of the Saket district court.
After considering the case, the court discharged 11 accused. It, however, framed charges against one Mohammed Ilyas. Those who are discharged are Sharjeel Imam, Aasif Tanha and Safoora Zargar, Mohammed Abuzar, Umair Ahmad, Mohammed Shoaib, Mahmood Anwar, Mohammed Qasim, Mohammed Bilal Nadeem, Shahzar Raza Khan and Chanda Yadav.
The case relates to the violence that took place in and around Jamia Millia Islamia in December 2019 after some students and locals announced that they would walk towards Parliament to protest against the Citizenship Amendment Act (CAA) and National Register of Citizens (NRC), reported Bar and Bench.
Judge Varma observed that that the prosecution had filed "ill-conceived chargesheets" in which the police arbitrarily chose to array "some people from the protesting crowd as accused and others as police witnesses". This "cherry picking" is detrimental to the precept of fairness, the court added.
"It would be pertinent to underscore that dissent is nothing but an extension of the invaluable fundamental right to Freedom of Speech and Expression contained in Article 19 of the Constitution of India, subject to the restrictions contained. It is therefore a right which we are sworn to uphold," the judge affirmed.
The judge further said, "When something is repugnant to our conscience, we refuse to obey it. This disobedience is constituted by duty. It becomes our duty to disobey anything that is repugnant to our conscience."
Judge Verma added that dissent is an extension of the invaluable fundamental right to freedom of speech and expression, which was a right that the courts we are sworn to uphold.
The judge went on to quote Chief Justice D.Y. Chandrachud who had described dissent as a safety valve of democracy. "The destruction of spaces for questioning and dissent destroys the basis of all growth – political, economic, cultural and social. In this sense, dissent is a safety valve of democracy," Judge Varma quoted the CJI.
He pulled up the prosecution and questioned multiple charge sheets filed into the matter, according to The Wire. "In the present case, it has been most unusual of the police to file one chargesheet and not one but three supplementary chargesheets, with really nothing to offer. This filing of a slew of chargesheets must cease, else this juggernaut reflects something beyond mere prosecution, and would have the effect of trampling the rights of accused persons," he observed.
-INDIA NEWS STREAM