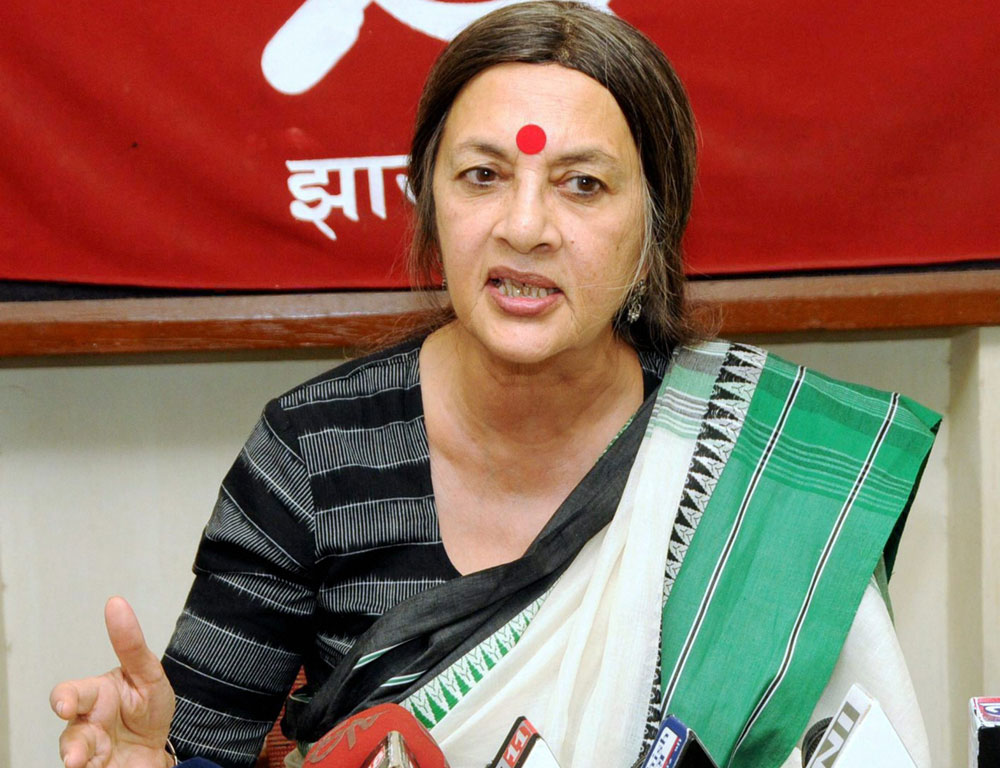 CPI-M leader Brinda Karat. (File photo)
In response to 'Hindustan should remain Hindustan' remark, Kapil Sibal tweeted writing Insaan (humans) should remain Insaan
'Should Mohan Bhagwat decide how we behave?'
Asaduddin Owaisi: Modi hugs all Muslim leaders of other countries but never seen hugging a single Indian Muslim'
CPI-M leader Brinda Karat lashed out at Rashtriya Swayamsevak Sangh (RSS) chief Mohan Bhagwat for setting criteria for Muslims to live in India peacefully, calling his remarks his 'anti-Constitutional' and 'highly objectionable'.
Referring to RSS chief interview with the Organiser and the Panchjanya wherein Bhagwat made the comment, Karat questioned his mandate. She asked: "Should Mohan Bhagwat decide how we behave?" she asked.
A section of media reported that RSS chief said that the Muslims can live freely in modern India, but stressed that they would have to "abandon their narrative of supremacy" – implying  centuries of rule by different Muslim emperors and kings. He also said, "Anyone who lives in India should abandon the notion of supremacy."
In response to those remarks, Karat stated, "The RSS chief's statement is against the Constitution. It is objectionable and provocative. The court should also take suo moto notice of his statement."
"It seems Bhagwat ji will prepare and decide the criteria (for living in India). Bhagwat ji and all his Hindutva brigade should read the Constitution, especially articles 14 and 15, among others. Every citizen has equal rights in our country irrespective of religion," the former Rajya Sabha MP added.
"Former RSS Chief Madhav Sadashivrao Golwalkar had said if Muslims want to live in India then they will have to remain subordinate. The present RSS chief wants to impose this understanding and thinking even today," Karat alleged.
Speaking about "Akhand Bharat", Bhagwat stated that India has been undivided (akhand) since the beginning of recorded history, but has been divided whenever the core Hindu sense has been forgotten.
Kapil Sibal takes a swipe on 'Hindustan' remark
Former Congress leader Kapil Sibal tweeted: "Insaan (humans) should remain Insaan," in a response to RSS chief remark that, "Hindustan should remain Hindustan." Bhagwat had said: "The simple truth is this – Hindustan should remain Hindustan. We are of an exalted race; we once ruled over this land, and shall rule it again; only our path is right, rest everyone is wrong; we are different, therefore we will continue to be so; 'we cannot live together' – they (Muslims) must abandon this narrative. In fact, all those who live here – whether a Hindu or a communist – must give up this logic."
Asaduddin Owaisi: Who is he?
Meanwhile, AIMIM chief Asaduddin Owaisi questioned Bhagwat mandate to put condition on citizens. "Who is Mohan Bhagwat to give Muslims permission to live in India or follow our faith? We're Indians because Allah willed it. How dare he put conditions on our citizenship? We're not here to adjust our faith to a bunch of alleged celibates in Nagpur," Owaisi said. "There are enough Hindus who feel the boisterous rhetoric of supremacy of RSS, leave alone how every minority feels. You can't say Vasudhaiva Kutumbakam to the world if you're busy building divisions in your own country," he said.
Owaisi also slams Prime Minister Narendra Modi for ignoring Indian Muslims. "Why does PM Modi hug all Muslim leaders of other countries but is never seen hugging a single Muslim in his own country?" Owaisi asked.
-INDIA NEWS STREAM