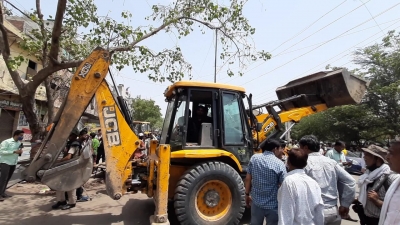 New Delhi: The authorities carrying out demolition against what they claimed illegal constructions in North Delhi's Jahangirpuri area seemed to have ignored the stay order against it. The municipal corporation with the help of Delhi Police carried out demolition.
The demolition process was briefly halted for a period of 15-20 minutes after the Supreme Court order.
However, it yet again started demolishing another shop.
The police officials on the spot were tight-lipped and did not give details as to why the demolition drive is being continues despite the Apex Court's orders.
Meanwhile, Municipal Corporation officials said they have not received any written order.
"Until and unless we don't have written directions the process will continue," said the official.
Later, Delhi Police Special Commissioner of Police Dependra Pathak said that the situation at the Jahangirpuri area of Delhi, where violence broke out four days ago, is completely normal and under control in the wake of demolition drive carried out by the Municipal Corporation.
"The demolition process has now been stopped and the law and order situation is under control. We're maintaining peace and tranquillity in the area," the Special Commissioner said while speaking to the reporters.
He also said that the police in large numbers were there to only provide protection to the civic agency while they carried out the demolition process. "We have adequate deployment and we are also in touch with the citizens of the area to maintain peace," the Special CP said.
The anti-encroachment drive began in the violence-hit Jahangirpuri area at around 10.40 a.m. in the morning. The first demolition was of a tobacconist's shop and then the JCB proceeded further to demolish another juice-cum-tobbacco vendor next to it. A double storey scrap dealer's shop was also razed to the ground.
Suddenly at around 11.10 a.m., the news of the Supreme Court ordering status quo over the demolition drive broke out and the bulldozers were halted to further carry out the demolition.
But in just 20 minutes, at 11.30 the JCBs again started the drive and a 2-storey juice corner was demolished at first after a brief halt.
The owner of the shop kept screaming and weeping, asking for help from the mediapersons, however, within minutes his shop was also razed to the ground. "My shop has been here since 1977. Why are they not checking my papers? Why is no official coming to talk to me. My shop was alloted by the Delhi Development Authority (DDA)," asked Ganesh Kumar Gupta, owner of the Juice corner.
The people residing in the vicinity of the demolition drive could be seen, watching the whole process from the rooftops and the windows of their houses. While speaking to IANS, several among them expressed their resentment over the government's strict action which came just four days after the severe communal clashes.