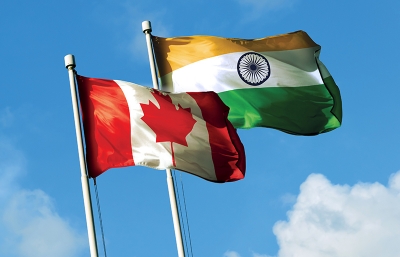 New Delhi: India on Thursday said that Canada has not given any specific information about its allegations of New Delhi's hand in the killing of Khalistani terrorist Hardeep Singh Nijjar, and they appear to be "politically driven".
Addressing the media, Ministry of External Affairs spokesperson Arindam Bagchi said: "Yes, I do think there is a degree of prejudice here. They have made allegations and taken action on them. To us, it seems that these allegations by government of Canada are primarily politically driven."
He further said that these allegations were also raised by Canadian Prime Minister Justin Trudeau with his Indian counterpart Narendra Modi, but the latter rejected them.
To a question on possible reduction of Canadian diplomats stationed in India, Bagchi said: "Yes, we've informed the government of Canada that there should be parity in strength in our mutual diplomatic presence. Their number is very much higher than ours in Canada… I assume there will be a reduction from the Canadian side."
To a query on any information shared by Canada with India on the issue, Bagchi said: "We are willing to look at any specific information that is provided to us, but so far we have received no specific information from Canada. From our side, specific evidence about criminal activities by individuals based on the Canadian soil has been shared with Canada, but have not been acted upon."
On the issue of reputational damage owing to the diplomatic row with Canada, the spokesperson said: "If you're talking about reputational issues and reputational damage, if there's any country that needs to look at this, I think it is Canada and its growing reputation as a place, as a safe haven for terrorists, for extremists, and for organised crime. And I think that's a country that needs to worry about its international reputation."
Regarding the travel advisory issued by Canada for travelling to India, he said, "The issue is not about travel to India. Those who have valid visas, OCIs are free to travel to India. The issue is the incitement of violence, inaction by Canadian authorities, and the creation of an environment that disrupts the functioning of our consulates which is what is making us stop temporarily the issuance of visa services. We will review this situation on a regular basis."
IANS