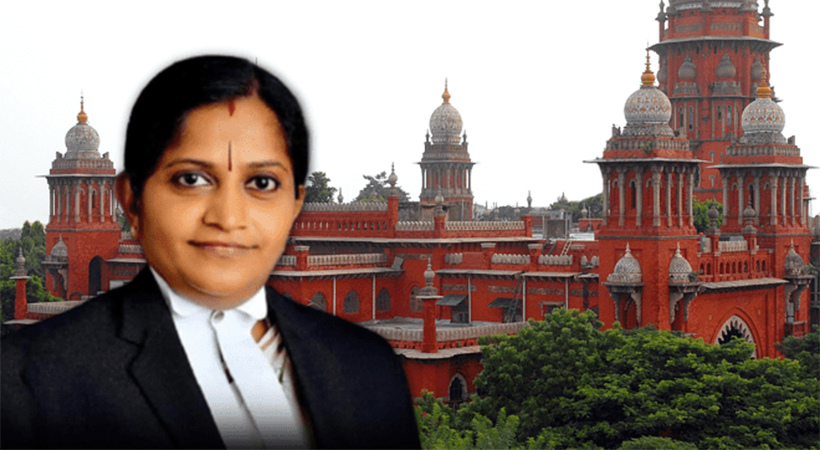 Lekshmana Chandra Victoria Gowri
The Supreme Court on Tuesday declined to hear a petition challenging the appointment of lawyer Lekshmana Chandra Victoria Gowri as a judge of the Madras High Court.
The Bench of Justices BR Gavai and Sanjiv Khanna at the apex court eventually dismissed the plea, insisting that they could not sit in judgment over the Collegium's decision to recommend Gowri.
Refusing to entertain the writ petition, Justice Sanjiv Khanna said the challenge could be on the grounds of eligibility and not suitability. He said, "The courts shouldn't get into suitability, otherwise the whole process will become haywire."
On the issue of Gowri's political affiliation, Justice Gavai said, "I also have a political background, I have been a judge for many years and my political background has not come in the way."
Gowri unfit to take oath: Petitioners
Her elevation was opposed by members of legal fraternity and some political parties due to her affiliation to the saffron party coupled with her controversial speeches against Muslim and Christians on multiple occasions. She has been in the eye of a storm ever since the Collegium recommended her elevation to the Madras High Court on January 17.
Representing the petitioners, senior advocate Raju Ramachandran argued, "Political background is not the question at all. It is hate speech." Ramachandran said that she was unfit to take the oath and argued that the decision-making process was stymied as relevant information was not passed to the collegium. The judges said they had read everything placed on record.
"Political background is not the question at all. It is hate speech. Hate speech, which runs completely antithetical to the Constitution. That makes her unfit to take oath. It will only be a paper oath," Ramachandran then argued.
"I don't think we are in a position to say this is a question of eligibility. It is more of a question of suitability. Two, we can't direct the collegium," the bench said, adding that to assume that the collegium has not taken these things into account "may not be appropriate", according to NDTV.
Gowri thanks her spiritual guru Mata Amritanandamayi
During her swearing-in speech, she also said that she will work towards liberating the marginalised. "I will strive to liberate the marginalised and to nurture fraternity in this diverse and beautiful land called India," she said. Gowri thanked the nation, her husband, two daughters and spiritual guru Mata Amritanandamayi. "I thank Mata Amritanandamayi, and mother India. I thank my husband who stood by me through all my experiments in life, and my two daughters. I bow to the noble feet of all the elder judges here and seek your blessings," she said.
-INDIA NEWS STREAM