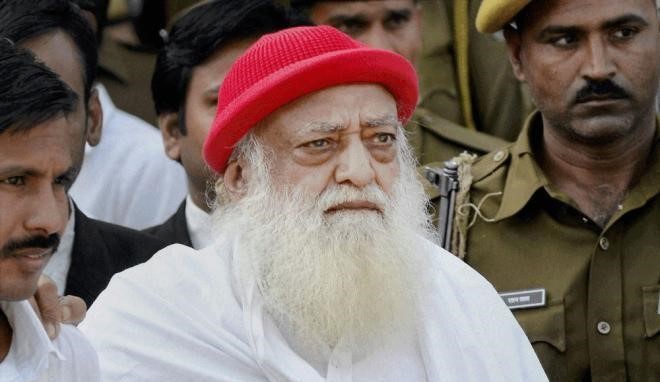 Asaram Bapu. (File Photo)
Asaram's disciple filed a case in 2013 accusing him of repeatedly raping her between 2001 and 2006 at his ashram in Ahmedabad
The self-proclaimed religious man is already serving a life sentence in two sexual assault cases
Victim's sister also filed a case against Asaram Bapu's son, Narayan Sai, for raping her and confining her in Surat ashram
A Gandhinagar court on Tuesday handed out a life term to self-styled goadman Asaram Bapu for raping her disciple between 2001 and 2006.
The Surat-based disciple filed a case in 2013 saying that the religious preacher raped her for several years at his ashram in Ahmedabad. She said she was held captive by the godman.
Additional Sessions Judge D K Soni pronounced the quantum of a sentence giving Asaram life imprisonment to the "godman" who was once revered by masses and scores of politicians in Gujarat and elsewhere.
On Monday, the sessions court reserved its verdict on the quantum of sentence after convicting Asaram of sexual assault.
Asaram is already serving a life sentence in two sexual assault cases. He was first arrested in August 2013 on charges of raping a teenage student at his ashram.
The Surat-based woman, a former disciple, filed a first information report against Asaram and six others in 2013, alleging that they illegally confined her at the Ahmedabad ashram and raped her between 2001 and 2006.
The survivor said in the FIR that she was raped at Asaram's Ashram in Chandkhedra. Her sister also filed a case against Asaram Bapu's son, Narayan Sai, for raping her and illegally confining her in Surat ashram during the same period.
Throughout the investigation in the case, statements from 68 people were taken, according to an India Today report. The investigating officer of this case, Divya Ravia, had also received death threats several times during the investigation.
Eight people were accused in connection with the case, out of which one turned approver.
The 81-year-old preacher was born in Berani village in Pakistan's Sindh region, as Asumal Sirumalani Harpalani, on 17 April 1941. His family crossed the border into India after the Partition and settled in Ahmedabad, then a part of Bombay.
Asaram returned to Ahmedabad in 1971 and set up a hut at Motera village in 1972. A year later, in 1973, Asaram turned this hut into his first ashram, with around 10 disciples.
-INDIA NEWS STREAM