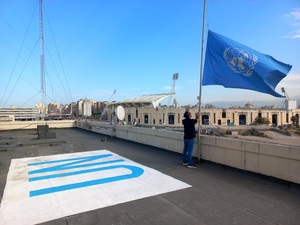 Gaza: Since the Israel-Hamas war erupted in Gaza on October 7, at least 102 staff members of the UN Relief Works Agency for Palestine Refugees (UNRWA) have lost their lives in the ensuing violence.
According to the Agency, this is is the highest death toll among UN staff in such a short period in the history of the world body.
"In the last 24 hours, one UNRWA staff member was killed with her family in the north of the Gaza Strip due to strikes," the Agency said in a statement.
At least 27 staff members have also been injured since the start of the war, it added.
UN offices globally lowered flags to half-mast on Monday to pay respects to the 102 victims.
Meanwhile, all UN staff also held a moment of silence to mourn and honor their colleagues who lost their lives in Gaza, according to the UNRWA.
The Agency also said that has continued to provide health care to the internally displaced persons at shelters through 124 medical teams deployed to the facilities.
"But by Tuesday, the fuel reserves of the health centres will be depleted if no additional fuel is provided. UNRWA operations will entirely depend on solar energy, which is designed only to cater for minimum operation.
"Functionality of the solar energy is not guaranteed as any malfunction and/or battery failure will cause complete stop of all operation," the UN body warned.
IANS