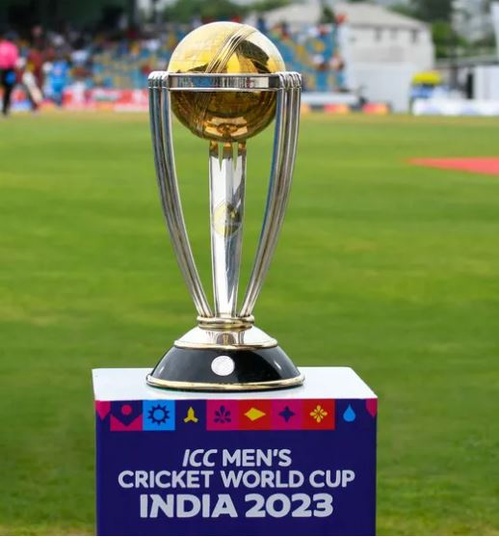 New Delhi, Sep 13 (IANS) Saptak Bhattacharya, a die-hard cricket fan based in Kolkata, logged in sharp at 8pm on the BookMyShow website on September 8, where 400,000 general tickets sales were to happen for all matches of the 2023 Men's ODI World Cup in India.
Saptak had tried on other ticket sales days to get at least one ticket for the India-South Africa game at Eden Gardens, but couldn't get any despite waiting in the queue for almost two hours and error messages cropping up on seat selection.
"I logged in to the website at 8pm sharp, and got in the queue which showed 90 minutes waiting time. It took approximately two hours for me to reach block selection page in the stadium layout, but then was not able to select my preferred block. After trying multiple times with different error messages displaying, finally got hold of a block ticket for that game. Just luck I guess (played a part in getting the ticket)," said a relieved Saptak to IANS.
Whenever a big sporting event, especially related to cricket happens in India, one is bound to see a frenzy for buying tickets for matches, chiefly if the hosts are in action. For the 2023 Men's ODI World Cup, fans waited with anticipation over schedule and ticket sales announcement, which came after considerable delay.
The schedule was announced on June 27, with 100 days to go for the tournament, only for a revised version to come out on August 9. A word on ticket sales came too, starting from August 25 and requiring a pre-registration ten days ago on the ICC website.
Then came the announcement that August 24 will see Mastercard holders access tickets for non-India games, and a day later, to the general public. August 29 to September 3 was the time where fans – both with and without Mastercard – could aim for buying India match tickets.
On September 6, the BCCI announced that further 400,000 tickets will be up for sale for all matches, something which hadn't been mentioned previously. It also added that fans will be notified of the further sale of tickets in the next phase in due course, with no clarity on the dates around it, adding more fuel to the planning not being great for the World Cup.
Just like Saptak, Praapti, another cricket fan, got two tickets for India-South Africa match, with the help of a good samaritan, who was in a WhatsApp group of Indian cricket fans, like her. She tried her luck for India's matches against Afghanistan and Pakistan, as well as a bunch of non-India tickets in Delhi, but couldn't get any.
In a chat with IANS, Praapti, who attended previous global events in India and abroad, calls her ticketing experience for the 2023 World Cup as "very sad and harrowing".
"The three times I logged in at 8pm, for previous sales as well as for the one on September 8, I was in the queue even after two hours. For a non-India game, I managed to get to the stadium layout, but couldn't book tickets."
"Non-tier stands weren't open; tickets for the lower tier were opened and I don't like to watch my cricket matches from square of the wicket. I was queued up for the India-South Africa game, but someone in that group helped me out with two tickets."
"There were people in that group who were helping others to get tickets, who were helping out of goodness from their heart to help other fans. They were like, "You give your phone number and UPI ID, we will get you tickets and then you pay for it'."
"I really appreciate that a lot as there's some respect for fans amongst ourselves, which was very, very heartening. I do want to give them a shoutout and at the same time, it feels sad that our systems aren't that much transparent and want that to happen at higher levels, like have QR ticket mechanism too."
The extremely tight timeline of ticket sales, coupled with lack of transparency in the process, means it has made life hellish for scores of fans, this agency spoke to, for thronging the venues and watching the best of men's ODI action at home in the months of October and November.
Sanjeev Agrawal, a widely-travelled Mumbai-based cricket fan, got two tickets for India-Bangladesh game in Pune during Mastercard sale, but didn't get any more tickets during September 8 ticket sales day. He was also left disappointed over no improvement on UI & UX systems of the website.
"When I logged in on September 8 for the tickets, 8pm did not mean 8pm – like it opened for Pakistan game, but not for Australia match. Plus, the wait time was 90 minutes and after waiting for 80-90 minutes, it was still showing that duration, even if one tried to log in fresh. When you are in a queue and don't get to make a movement, you get frustrated no?"
"For the Australia game, I managed to be shown the stadium and seat booking, but I couldn't select any seats. After seven-eight tries, it threw me out of the queue and it happened previously too. For the Pakistan game, around 9:30pm, I clicked at two seats of 6,000 rupees each, but it displayed a message that they may have been sold out and no other seats were showing," he said.
Rushab, a member of the North Stand Gang, a group of regular cricket fans named after the stand they sit in at Wankhede Stadium, tried like a persistent bowler aiming to take wickets while aiming to buy tickets. His efforts, though, never translated into a match ticket. Rushab saw a change, only in the timing of the queue, not in his ticket-buying fortunes.
"I was trying for India's games against Pakistan, Sri Lanka and Bangladesh in that order. Every session & every time the only ticket I got was disappointment. In all the days of sales, the only thing which changed was the queue timings on the screen. First it used to show four, then six and eight hours, with the funny part being the waiting time increasing rather than reducing."
"During ticket sales on September 8, they changed the UI to approximately 90 minutes for queue. The waiting time never changed and after trying for two hours, ensuring the screen is not locked and not navigating to any other tab/app, all I got was 'tickets are sold out'. Once I reached the seat selection process after passing through the queue but after selecting the seat, the screen threw an error of 'something went wrong', while on other occasion after selecting the stand it showed all seats were sold out."
New Delhi-based Priti Nainwal Chandola was trying to get India-Afghanistan match tickets, but didn't get any despite trying from her as well as from her husband's mobiles and is now praying for getting tickets from people known to her.
"It was really frustrating as we hoped to get two-three tickets and didn't get any. There should be some reflection around the ticket sales, like which denominations are available and how many of them are sold out, and remaining."
"There needs to be some transparency where people can see during the bookings which stands are available or booked. I have seen IPL and India games, but never saw a World Cup game at home and wanted to watch a game from the stadium. I am keeping my fingers crossed that I get some tickets for the World Cup via acquaintances."
It has always been said that cricket fans in India are the biggest stakeholders and reason behind the sport thriving in the country. But in terms of priority, the very same fans come last, right from ticketing processes to making their experience of coming to the stadium memorable.
The lack of transparency and clarity in the process of ticket sales for the upcoming World Cup has undoubtedly made ticket buying an arduous task for regular cricket fans, who have experienced both agony and ecstasy in past two weeks. – IANS