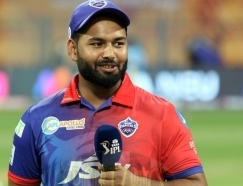 Dehradun, Oct 3 (IANS) Indian cricketer Rishabh Pant on Tuesday visited the holy Badrinath and Kedarnath shrines in Uttarakhand, a day ahead of his 26th birthday to take part in religious rituals.
Pant was involved in a severe accident while travelling from Delhi to Roorkee last year and his injury ruled out of action for 2023 but now he has been making progress in his recovery and is now on his way to regaining full fitness.
On Tuesday, the Delhi Capitals captain first visited Badrinath and then went ahead to Kedarnath. He was accompanied by Khanpur MLA Umesh Kumar.
Amidst devotees and fans, Pant paid his respects at the sacred shrines.