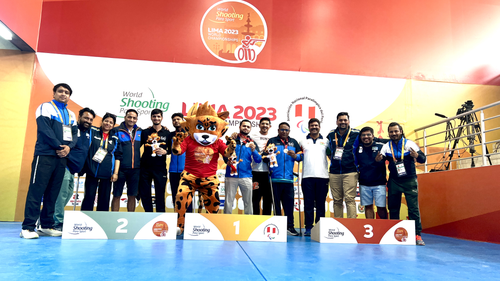 Lima (Peru):Paralympic champion pistol shooter Manish Narwal clinched his first gold medal at a World Championships as Indian para shooters finished the campaign with nine medals for their best show ever in a Worlds.
Overall, team India finished with three gold, four silver, two bronze medals and four quota places for the Paris 2024 Paralympic Games. The shooters' scintillating show came one year ahead of the Paris 224 Paralympic Games and less than a month to go for the Hangzhou 2022 Asian Para Games.
With star player Avani Lekhara giving a miss to the event owing to preparations for next month's Asian Para Games, the Indian side relied on their pistol shooters to bring home the glory.
Manish Narwal led the side with a golden show in men's 10m air pistol SH1, his first gold since his victorious campaign at the Tokyo 2020 Paralympic Games and also was his first gold in the World Championships.
"I am so happy and proud to win my first World Championships gold medal for my country," said Narwal, who also promised to "train hard for the Paralympics, but I will be very proud to be there, too".
"It has been a very happy time for India. I will take back home very nice memories of being here," added the 21-year-old from Faridabad, who also claimed the quota for Paris 2024 Paralympics thanks to his efforts of 239.7 points to Republic of Korea's Jungnam Kim's 235.9 in the final series.
Narwal, a Khel Ratna awardee, also took the team silver in P1 – Men's 10m Air Pistol SH1 combining with Akash and Santosh Vithoba Gadhe.
Narwal's gold was the only individual gold medal for India at the championships, while the other gold medals were won in Team events with Rubina Francis, Pooja Agarwal and Akash combining to win the P5 – Mixed 10m Air Pistol Standard SH1.
Francis meanwhile took the silver in the individual event.
Earlier, Nihal Singh, Rahul Jakhar and Amir Ahmad Bhatt together clinched the Team gold medal in P3 – Mixed 25m Pistol SH1, an event where Nihal claimed the individual bronze.
Promising Rudransh Khandelwal, who started competing internationally only last year, claimed two silver medals and a quota place thanks to his consistent show in pistol events. His efforts of 216.4 points saw him taking the individual silver medal in P4 – Mixed 50m Pistol SH1 event.
He took the team silver with Akash and Jakhar.
Speaking to Paralympic Committee of India, chief national coach J.P. Nautiyal said: "I have a mixed feeling – in one hand I am elated with the performance of pistol shooters, who have won all the nine medals and won four quota places; on the other hand, I am disappointed with the performance of rifle shooters."
"Overall, it was the best-ever performance by Indian para shooters at a World Championships. We achieved what we had targeted for. But the work continues as we have major events lined up in the coming time."
Others who won the quota places for India at the Paris 2024 were: Khandelwal, Nihal and Ahmad Bhatt.
IANS