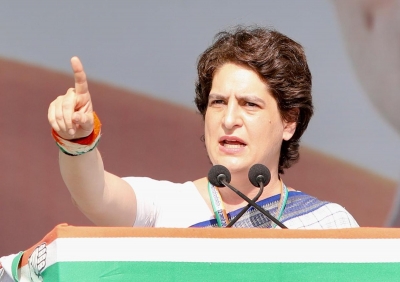 New Delhi: Congress General Secretary Priyanka Gandhi Vadra on Thursday condemned the rape of a 12-year-old girl in Madhya Pradesh and asserted that girls, women, Dalits and tribals are unsafe in the 20 years of BJP's "misgovernance".
She also questioned the need of announcing the 'Ladli Behna' scheme ahead of elections, if girls are not safe.
In a post on X, formerly Twitter, Priyanka Gandhi said, "The barbarity meted out to a small girl in Ujjain, the city of Lord Mahakal, is soul-shattering. After the torture, she kept wandering from door to door for help for two and a half hours and then fell unconscious on the road but could not get help."
"This is Madhya Pradesh's law and order and women's safety? Girls, women, tribals and Dalits are not safe in the 20 years of BJP's misgovernance. What is the use of making election announcements in the name of 'Laadli Behna' if girls can't even get safety and help," Priyanka Gandhi said.
Her remarks came two days after a mentally-challenged minor girl was brutally raped, and faced people's apathy while seeking people's help in Ujjain.
In a viral footage, the victim, who was in a semi-naked condition and bleeding, was seen approaching a man for help, who shoos her away.
As per the report, while wandering on the streets she knocked on several doors but no one helped her.
She then reached an ashram. A priest there suspected it to be a case of sexual violence, covered her with a towel and rushed her to the district hospital.
The medical examination confirmed rape.
After primary treatment, doctors referred her to Indore for surgery as her private part was brutalized.
Reports also claimed that a policeman donated blood as she needed blood transfusion urgently to survive and her condition is now learnt to be stable.
The fresh incident has given the Congress an ammo ahead of the high-octane Assembly election later this year to target the ruling BJP.
The Congress has been questioning the BJP government over the crime against women, tribals and the Dalits in the state.
IANS