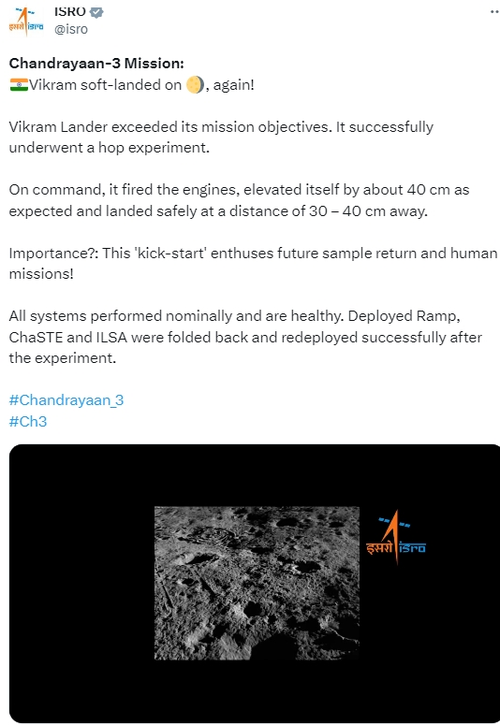 Chennai: India's moon lander Vikram can hop around the moon it seems after the moon rover Pragyan went to sleep.
According to the Indian Space Research Organisation (ISRO), Vikram soft landed on the lunar soil for a second time.
In a post on X, ISRO said: "Vikram Lander exceeded its mission objectives. It successfully underwent a hop experiment." "On command, it fired the engines, elevated itself by about 40 cm as expected and landed safely at a distance of 30 – 40 cm away."
According to the space agency, the kick start gives enthusiasm for lunar sample return in the future and also for manned missions to the moon.
"All systems performed nominally and are healthy. Deployed Ramp, ChaSTE and ILSA were folded back and redeployed successfully after the experiment," ISRO said.
Sometime back, the Indian space agency uploaded the video Pragyan moving on the social media platform X and said: "It feels as though a child is playfully frolicking in the yards of Chandamama, while the mother watches affectionately. Isn't it?"
Now perhaps with the playful kid going to sleep the mother is hopping around!
India on August 23 reached the Moon with its lander safely landing on the lunar soil in a text book style.
Later the rover rolled down and started doing experiments.
ISRO said, the rover has found the presence of oxygen, aluminium, sulphur and other materials near the lunar south pole, while investigation regarding the presence of hydrogen is underway.
IANS