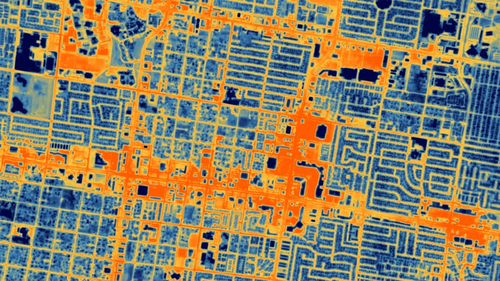 London: UK-based climate tech company SatVu's HotSat-1 satellite, dubbed as 'world's thermometer', has shared the first images of heat variations across Earth.
The groundbreaking thermal imaging satellite launched aboard SpaceX's Falcon 9 rocket in June aims to provide valuable and unique insight into economic activity and energy efficiency for a range of industries.
The spacecraft, a cube that measures about 1 by 1 by 1 m, follows a polar orbit that allows it to see every spot on Earth at roughly the same time every day.
HotSat-1 monitors infrared to understand the amount of heat produced by objects or landscapes, compared to satellites that monitor the Earth with cameras that "see" visible light.
The new images show temperature differences in Las Vegas and Chicago down to a resolution of 10 metres, Space.com reported.
From the thermal signature of a locomotive travelling on the main railway line in Chicago, the images also include a detailed thermal footprint of wildfires that devastated Canada's Northwest Territories in June.
The superb resolution provided by HOTSAT-1 could help firefighters monitor how fire fronts advance in critical areas, such as near populated areas, Tobias Reinicke, chief technical officer and co-founder of SatVu, was quoted as saying.
Reinicke said that thermal imaging by NASA's Landsat and the European Sentinel satellites, collects data at a very coarse resolution — 100 metres, 500 metres or 1,000 metres
"There's not been a commercial mission that is capturing data under 10 metres (33 feet) in the thermal spectrum," he noted.
Seeing temperature differences on Earth's surface in such a high resolution will allow city planners to understand how heat escapes from buildings, pipelines and factories, which, in turn, will enable them to make future infrastructure more energy efficient to help fight climate change.
Detecting heat (essentially infrared light) from space is more difficult than synthetic aperture radar (SAR) — satellite constellations that see Earth's surface even at night and through thick clouds — and visible light imaging because of the longer wavelength of the measured signal, Reinecke said.
"You need a slow shutter," Reinecke said. "Effectively a longer exposure. But because our satellites travel through space at a speed of 7 kilometres per second, we need to be able to carefully point the satellite; otherwise, the images would be blurry."
HOTSAT-1 is the first of eight satellites planned for launch by SatVu, which has so far secured $37.1 million in venture capital funding. It hopes to launch its second satellite in about a year.
IANS