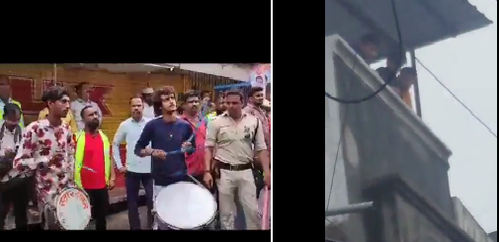 Bhopal: The Madhya Pradesh administration on Wednesday bulldozed the house of a person who has been allegedly accused of spitting on the devotees who were participating in a religious procession in Ujjain city of Madhya Pradesh.
A video had surfaced on social media, few days back, showing three youth allegedly 'spitting' on devotees of a religious procession in Ujjain, Madhya Pradesh.
Ujjain Additional Superintendent of Police (ASP) Akash Bhuriya said that during a recent religious procession some individuals attempted to disturb the religious harmony.
"The police registered an FIR against the accused under various sections, leading to their subsequent arrest. We then informed the Municipal Corporation and the Revenue Department about the accused," the police officer said.
He said that the illegal encroachment by the accused has been effectively removed in the presence of the Municipal Corporation and the Revenue Department and the police.
The bulldozer operation was carried out by Ujjain Municipal Corporation while beating drum.
When asked about beating drums, the ASP said that drums are traditionally used to publicly announce actions such as the removal of encroachments.
"That is why we used drums today as well," the police officer said.
Police said that incident was reported during the process called – 'Mahakal Ki Sawari' on July 17.
On the basis of social media video and a complaint lodged by a person participating in the procession, Ujjain police carried a search operation.
The complainant had told the police that the procession was crossing Tanki Chowk when he saw three unknown boys 'spitting' on the devotees.
The three persons belong to the minority community. They were arrested on July 18.
Police said that the accused have been booked under various sections, including 295A (deliberate and malicious acts intended to outrage religious feelings) and 153A (offence committed in a place of worship).
IANS