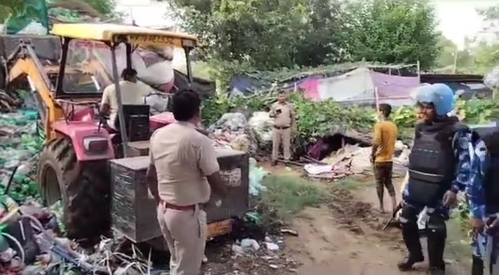 Nuh: As Haryana follows demolition of alleged accused persons houses by using bulldozer in similar lines with neighbouring saffron states while dealing with the recent communal riots, in which six people were killed, concern raises in the minority community which question the 'selective' clean up of the government.
Zamil Khan, a resident of Nuh, expressed concern over the recent events where armed Hindu activists shouted provocative slogans during a procession. He pointed out that instead of taking action against these activists, the police seemed to be selectively targeting Muslim properties during the demolition drive.
He questioned the authorities, saying: "The authorities have chosen to demolish homes and shops belonging to Muslims only. Why haven't they taken any action against those responsible for the violence and those who openly brandished weapons during the rally?"
Zamil Khan believed that this approach was an attempt to appease Hindutva groups that sought to disrupt the social harmony and communal amity that had existed in the area for many years. His home had been demolished, leaving him with the question of where to go next.
Haroon Khan, whose shanty and juice booth near Nalhar medical college were demolished, expressed his innocence, stating that he had no involvement in the riots or any association with such individuals.
His juice booth was his means of supporting his family, and he was now worried about how to provide for his family of three after the demolition.
A Hindu resident, working as a construction laborer, also acknowledged that both communities' poor people had suffered due to the violence. He decided to leave the area with his wife and three children and return to his village in Orissa for safety and stability.
Nearly 45 illegal commercial shops, comprising pharmacy stores, were razed to the ground near a medical college in Nuh. The authorities bulldozed illegal structures on 2.6 acres of land around SKHM Government Medical College on Nalhar Road, the same place from where a woman judge along with her 3-year-old daughter, who had gone to buy medicines, was caught in the crossfire.
It was around 1 pm on July 31 when Additional Chief Judicial Magistrate (ACJM) Anjali Jain went out to buy some medicines from SKHM Medical College in her car along with a gunman, her toddler daughter and one more employee who was driving the vehicle.
While they were returning after an hour and reached the Bus Stand on the Delhi-Alwar road, they saw a mob of 100-150 people that had already gathered there.
"Within no time, the mob started pelting stones at our car and torched other vehicles. After some time, the rear glass of our vehicle was shattered by a stone and then the mob began firing at our car," an FIR that was lodged on the complaint of the Process Server Tek Chand (a Court employee), accessed by IANS, read.
To save their lives, all occupants of the car, including ACJM Anjali Jain and her daughter, stepped out of their vehicle and hid themselves in the workshop of the old bus stand.
"After waiting for some time at the workshop, some Advocates came and rescued all of us," the complaint read. Next day, when they went to check the official car of the ACJM, it was found in a torched state.
Sources said that the shops and structures that were razed to the ground on Saturday and Sunday belonged to some immigrants.
"All of them were illegal constructions. Notices were given to owners for the demolition. Some owners of illegal structures were involved in the violence too," Sub Divisional Magistrate Ashwani Kumar told the mediapersons.
The demolition drive was carried out in the Nalhar area where shanties mostly belonged to the accused who fired bullets at around 2,500 pilgrims hiding in the Nalhar Mahadev temple.
The shanties were illegally raised on the land of the Forest Department, as claimed by the authorities.
On Friday, Haryana government razed shanties of migrants living in Tauru, about 20 km away from violence-hit Nuh, for encroaching on government land.
The bulldozer move, however, is also being seen as action against alleged rioters, as both the district administration and theMinister earlier alleged outsiders were involved in the clashes.
Sources said Haryana Chief Minister Manohar Lal Khattar ordered the demolition.
Migrants from Assam had allegedly set up shanties on Haryana Urban Authority land in ward number one along Mohammadpur road of Tauru town in Nuh district, sources said.
More than 250 shanties were built in about one acre of land, and they were reportedly living here for the last four years.
Police and administration have alleged "outsiders", including alleged infiltrators, were involved in the attack on the VHP procession.
However, the questions still stand — what about four people have been arrested in connection with the rioting and murder of an imam at Gurugram's Anjuman Jama Masjid on the intervening night of Monday and Tuesday (July 31 and August 1).
State Home Minister Anil Vij has claimed that the violence behind the clashes in Nuh was part of a "big game plan".
Till now, 176 arrests have been made for the communal clashes that first broke out on Monday during a Hindu religious procession after rumours that the absconding cow vigilante Monu Maneser, a key accused in Bhiwani killings, would also attend the event.
IANS