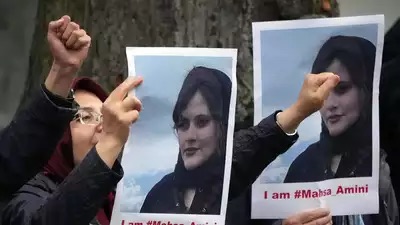 As many as 31 persons have been killed in an Iranian security forces crackdown on protests that erupted over the death of 22-year-old Mahsa Amini after her arrest by the morality police.
The country has been witnessing massive protests against the hijab rules for the last one week after the death of Amini on September 16.
According to AFP, Iran Human Rights (IHR) director Mahmood Amiry-Moghaddam said in a statement: "The people of Iran have come to the streets to achieve their fundamental rights and human dignity… and the government is responding to their peaceful protest with bullets." The IHR published the toll after six days of protests over the death of Amini.
According to Iranian media, four people were killed in the last two days, bringing the total death toll according to official sources to eight. The toll included a member of the police and a pro-government militia member.
The IHR said it had confirmed protests taking place in over 30 cities and other urban centres, raising alarm over "mass arrests" of protesters and civil society activists.
According to sources, the protests engulfed the Islamic Republic over the weekend. It started from the northern province of Kurdistan, from where Amini originated.
IHR said its toll included the deaths of 11 people killed Wednesday night in the town of Amol in the northern Mazandaran province on the Caspian Sea, and six killed in Babol in the same province, according to an NDTV report.
'Internet curbed'
Meanwhile, the Islamic Republic on Thursday blocked access to Instagram and WhatsApp and imposed drastic restrictions on internet access. "In accordance with a decision by officials, it has no longer been possible to access Instagram in Iran since yesterday (Wednesday) evening and access to WhatsApp is also disrupted," the semi-official Fars news agency reported.
According to NDTV, access to internet services in Iran is heavily restricted by government filters and only those with VPNs can access uncensored content from overseas websites. – INDIA NEWS STREAM