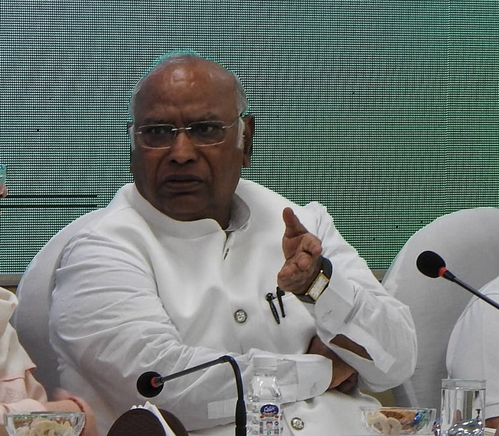 New Delhi: Congress President Mallikarjun Kharge in his opening remarks in the Congress Working Committee (CWC) said the party will implement women's reservation, including extending it to the OBC women when it comes to power in 2024.
Addressing the CWC members here on Monday, Kharge said, "In our first meeting in Hyderabad last month, we pledged to rid the country of divisive politics, strengthen social justice, and provide a responsible and responsive government."
Taking a swipe at the BJP-led government at the Centre, Kharge said, "During the recent special session of Parliament, we saw that the Women's Reservation Bill was passed.
"However, this was without any consultation or deliberation with the opposition parties. This session became yet another example of the government's distraction and diversionary tactics. We wholeheartedly supported the bill, but questions remain about its implementation and exclusion of OBC women," he said.
"We resolve to implement women's reservation, including extending reservation to OBC women when we come to power in 2024," the Congress leader said.
He said that Prime Minister Narendra Modi's silence on the Manipur issue stands in sharp contrast to his frequent visits to the election-going states.
"His baseless attacks filled with lies and falsehoods on the Congress party will only increase in coming days. It is essential that we counter these falsehoods and create our own counter narrative.," he said.
Kharge said, "We have also demanded a nationwide caste-based census, crucial for effective government programmes and welfare schemes."
Emphasizing on the Assembly elections in five states and 2024 Lok Sabha polls, the Congress leader said, "as we approach the upcoming Assembly elections and General Elections, it is important that the party works with "meticulous coordination and complete discipline and unity".
"We must also expedite efforts to highlight government failures and raise concerns affecting the common people," he said.
He said that today the country faces inflation, unemployment, and the government's failure to implement the Old Pension Scheme.
"The ruling party's divisive tactics and misuse of autonomous bodies pose a threat to democratic stability," he said.
He said that in 2024, we must strive to establish a government that addresses these grave challenges and caters to the marginalized, youth, women, farmers, and laborers.
"Simultaneously, we must address pressing issues like inflation and unemployment while remaining attuned to the people's voices," he said.
He also said that we must propagate the exemplary work of Congress-led state governments and past Congress governments at the Centre.
IANS