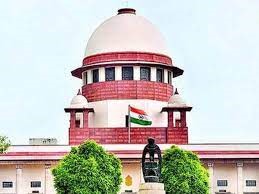 The Supreme Court has sought information from all states on the yardstick being adopted to identify the inadequate representation of Scheduled Castes (SC) and Scheduled Tribes (ST) in reservation for promotions and cadre-wise data in this regard.
A bench of justices Sanjiv Khanna, BR Gavai, and BV Nagarathna said it will be open to authorities to undertake the exercise in terms of its judgment in the Jarnail Singh-II case in January 2022 and file a status report.
The move was aimed at knowing the development made so far as per a judgment of the top court last year.
The court issued the direction while hearing a batch of petitions of state governments and reserved category employees citing inadequate representation of SC and ST in reservation for promotions. The pleas referred to posts that remained vacant and how reserved category employees were not considered for them, according to Hindustan Times.
The bench agreed to take up the petitions on a day-to-day basis from July 17. Till then, it directed all concerned parties to file their documents and submissions.
Notably, the top court also held that the state was obligated to collect quantifiable data on inadequate representation of SC and ST for reservation in promotions. This was held to be in line with the past decisions in (2006) and Jarnail Singh-I's (2018) cases.
The data has to be gathered for each category of posts for the entire service, the bench said. It added the data required to be periodically reviewed.
The period of review was not determined even though the bench said it should be a "reasonable period" as it left it to the Union government to decide, reported HT.
The Union government filed an affidavit informing the court that the process of ascertaining the inadequacy of representation. "There is a proper application of mind before extending reservation in promotion in posts and services under the Central government."