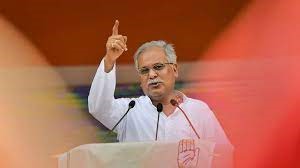 Chief Minister Bhupesh Baghel. (File photo)
As per the Bills, 32% of the seats will be reserved for ST, 13% for ST and 4% for EWS
Chief Minister Bhupesh Baghel said that it was a historic day
The tribals account for 32 per cent of the state's population
The Chhattisgarh Assembly unanimously passed two bills taking up the total reservation in the state to 76 per cent. While one of the bills is related to reservations for government jobs, the other one is admission to educational institutions in different categories.
The CM tabled on Friday the Chhattisgarh Public Service (Scheduled Caste, Scheduled Tribes and Other Backward Classes Reservation) Amendment Bill and Chhattisgarh Educational Institutions (Reservation in admission) Amendment Bill, which were passed after a debate of more than five hours.
After passing the bill in the Assembly, Chhattisgarh Chief Minister Bhupesh Baghel on Friday said that it was a historic day. He said the previous Bharatiya Janata Party (BJP) ministers could not form a Quantifiable Data Commission, which was constituted by his government in 2019 to survey people from Other Backward Classes and Economically Weaker Section categories in the state.
As per the bills, Scheduled Tribes will get quota of 32 per cent, Other Backward Classes 27 per cent, Scheduled Caste 13 per cent, while 4 per cent has been provisioned for Economically Weaker Section (EWS) in public employment and admissions in educational institutions, reported Outlook. The Bills, if and when granted assent by the Governor.
The state government held a special two-day session of the Assembly, which began on Thursday, for the passage of the two bills.
Leader of Opposition Narayan Chandel and other MLAs said the Quantifiable Data Commission report was not tabled in the Assembly, according to Scroll.
The issue of reservation flared up in the state after the Chhattisgarh High Court in September this year set aside the Raman Singh-headed state government's 2012 order to raise the quota to 58 per cent in government jobs and admissions in educational institutions and held that reservation exceeding the 50 per cent ceiling was unconstitutional, according to Outlook.
Following the high court's decision, reservation for tribal communities declined to 20 per cent from 32 per cent, triggering a protest by tribals. The tribals account for 32 per cent of the state's population.
According to the 2012 amendment, the quota for Scheduled Castes was slashed by 4% to 12%, while quota for Scheduled Tribes was increased by 12% to 32%. The reservation for Other Backward Classes was retained at 14%.
-INDIA NEWS STREAM