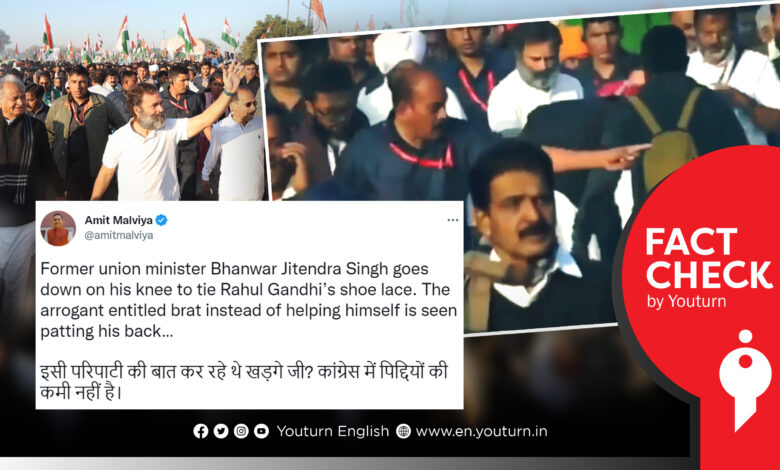 The BJP's IT-Cell chief, Amit Malviya, may face a defamation lawsuit for posting on social media a fake video clip which showed Congress leader and former Union minister Jitendra Singh Alwar tying shoelace of party leader Rahul Gandhi during Bharat Jodo Yatra.
"Former union minister Bhanwar Jitendra Singh goes down on his knee to tie Rahul Gandhi's shoe lace. The arrogant entitled brat instead of helping himself is seen patting his back," Malviya tweeted.
Following the post, the former Union minister clarified that he was tying his own shoelaces, and not Rahul Gandhi's and also threatened to take legal action against Malviya.
The Congress party sought an apology from the BJP leader for "misleading the country by misrepresenting this small matter".
The 20-second clip showed Rahul Gandhi tapping Jitendra Singh and pointing to the ground, following which the latter bent down to tie shoelaces. Amit Malviya shared the clip with claims that Rahul Gandhi had made the former Union minister tie his shoelaces, according to an NDTV report.
"As in-charge of ruling BJP's National Info Dept your tweet is a complete lie and defamatory. The fact is that after being pointed out by Rahul ji upon my request he paused briefly so that I could tie my own shoe laces. Delete the tweet and apologise to RG or face legal action," tweeted the Congress's Rajasthan unit leader.
The Congress party also hit out at Amit Malviya, saying that "BJP IT cell ran FAKE news".
On December 20, the march observed its last day in Congress-ruled Rajasthan. It is the only Congress-ruled state where the yatra covered around 500 km over 17 days before entering Haryana.
Meanwhile, Rahul Gandhi's Bharat Jodo Yatra resumed from Malab village in Nuh on the second day of its Haryana leg on December 22, with senior leaders from the state joining the former party in the march braving the morning chill.  He was joined by senior leaders including Bhupinder Singh Hooda, Randeep Singh Surjewala, Kumari Selja, Karan Singh Dalal and others.