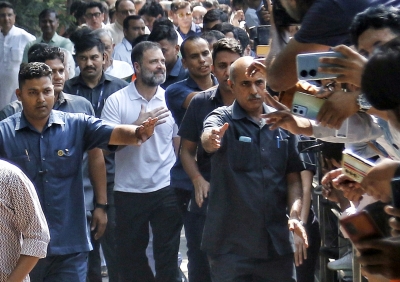 New Delhi: Former Congress chief Rahul Gandhi-led Bharat Jodo Yatra (BJY) passed through Karnataka's 20 assembly seats last year and the party is leading on 15 of those seats, party leaders said on Saturday.
The grand old party is set for a historic win in Karnataka with 136 seats.
The Bharat Jodo Yatra, which started on September 7 last year from Tamil Nadu's Kanyakumari after passing through the state of Kerala, had entered Karnataka on September 30.
The yatra stayed in the southern state in two phases – from September 30 to October 19 – covering a distance of 511 km in seven districts of the state.
Rahul Gandhi along with several party leaders covered over 500 km in Karnataka after entering through Gundlupet and finally, he was sent off by the people of Raichur district, which is the last district in the state to be covered by the padayatra.
In Karnataka, former party chief Sonia Gandhi had also particpated in the yatra on October 6.
Speaking about the impact of yatra in the state, a senior party leader said, "The yatra led by Rahul Gandhi passed through 20 assembly seats in the state and the Congress is leading on 15 out of those seats."
Meanwhile, Congress general secretary Jairam Ramesh, who is also party's communication in-charge, said while this is the direct impact of the Bharat Jodo Yatra in Karnataka, the intangible impact was uniting the party, reviving the cadre and shaping the narrative for the Karnataka elections.
"It was during the Bharat Jodo Yatra, from the many conversations Rahul Gandhi had with the people of Karnataka, that the guarantees and the promises in our manifesto were discussed and finalised," Ramesh said.
The yatra passed through the assembly seats of Ballary (ST), Bellary City, Gundlupet, Challakere (ST), Hiriyur, Molakpuru (ST), Melukote, Nagamangala, Srirangapatna, Chamundeshwari, Krishnaraja, Nanjangud (SC), Narsimhraja, Varuna, Raichur, Raichur Rural(ST), Chikkanayakkanahalli, Gubbi, Sira and Turuvekere.
According to party leaders, the party had won on five seats in the 2018 assembly polls while this year the party was leading on 15 seats. The JD-S had won six seats from these 20 assembly seats in Karnataka in 2018 while the BJP had won on nine seats.
In this year assembly polls, the JD-S was leading on three seats while the BJP was leading on only two seats.
During the 3,570 km pad yatra, Rahul Gandhi had the opportunity to engage with locals and listen to their concerns.
The yatra had concluded in Srinagar on January 31 this year after passing through the states of Tamil Nadu, Kerala, Telangana, Karnataka, Maharashtra, Madhya Pradesh, Rajasthan, Haryana, Delhi, Punjab, Himachal Pradesh and Jammu and Kashmir.
The Congress had already won 118 seats in Karnataka and is leading on 18 seats while the ruling BJP has won 53 and is leading on 11 seats. The JD-S on the other hand has won 18 seats and is leading on two seats in the southern state.
The polling for the 224-member Karnataka assembly took place on May 10. The Congress ran an aggressive campaign in the state and had highlighted the corruption issues. The party also promised five guarantees for the people of the state.
IANS