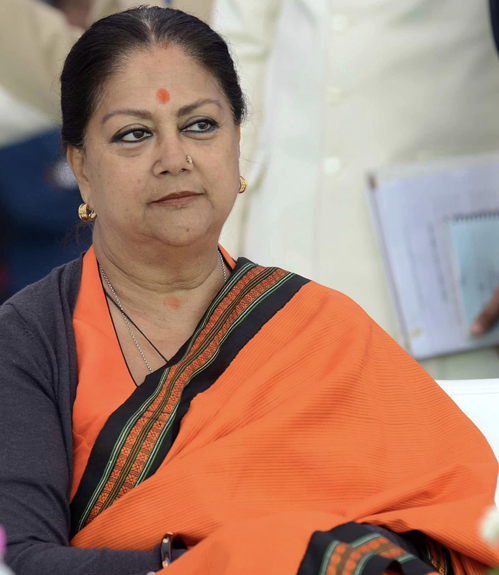 Jaipur: BJP is taking out 'Parivartan Yatras' in different regions of Rajasthan, covering all 200 Assembly constituencies, however, the party workers are "missing absence" of former Chief Minister Vasundhara Raje and are clueless why "no prominent face" is leading the campaign.
The BJP workers say Raje was a crowd puller and used to bring in motivation and excitement among workers during her rallies.
These workers told IANS that they are shying away to attend these yatras at different places as they claim that they have no connection with so-called local leaders as there is not one face but many faces in the party leading from the front who are keeping them confused. In fact, in many parts of the state, the party leaders were left red-faced as there was just no crowd in the rallies but only vacant chairs making news.
IANS tried to get feedback from party workers in different towns who in one voice confirmed that the party is facing difficult times due to lack of a face.
Gulaab Singh from Pokhran assembly says, "when former CM Vasundhara Raje used to take out rallies, there used to be excitement around and women also participated. However, these days, women participation is less. Also, after Raje, there has been no strong face in the party whom party workers can consider as their leader. So senior leaders should think on this front and bring a face whom party workers can go to discuss their local issues."
Presently, Prime Minister Narendra Modi has been made the face of elections, however, we can't reach out to him for every local issue, and hence comes the challenge at grassroots level, he added.
Another leader Lokesh from Barmer assembly said that the Gehlot government has already tapped the 50 per cent population of women by giving them free mobiles, there is huge rush coming in, however, BJP is yet to launch any such initiative in Rajasthan. Even though the BJP govt has announced to give Rs 3000 to women under 'Ladli Behna' scheme, however, any such announcement is yet to be made in Rajasthan which can lure women voters."
"When Raje used to take out yatras, women on their own used to connect with her. That was the connection of Raje and women voters which is lacking in present circumstances. Hence, it seems that women voters are lured by the Gehlot govt, he added.
Another worker, Aman Sharma from Hindaun City said, "BJP is already weak in Eastern Rajasthan and the yatra garnered poor response here. The reason — the lack of face in the desert state — is leaving party workers clueless as to where they go or which leader they should go with. Eventually, there was no crowd in eastern Rajasthan, he added.
Meanwhile, BJP leaders are claiming that yatra is garnering a massive response.
Leader of opposition Rajendra Rathore said, "This 'Parivartan Sankalp Yatra' is a call to action to liberate the people from the misrule of this Congress. It is drawing a huge response which shows that the Congress government will not be repeated but deleted."
Furthermore, a senior party worker told IANS, "In today's time, crowds in rallies and yatras hardly make a difference as elections are fought on issues and social media. So even if there is not a huge crowd, we are sure to repeat our government," he added.
IANS