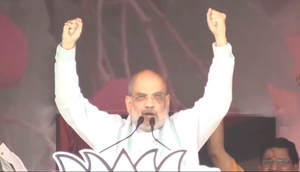 Patna: Home Minister Amit Shah on Sunday slammed Bihar Chief Minister Nitish Kumar saying that he is sitting in lap of Lalu Prasad Yadav to enjoy the power.
Shah, who was addressing a rally in Patahi airport ground in Muzaffarpur, said that he wants to make Bihar free from Jungle Raj and Paltu Ram.
"It is the soil of Khudi Ram Bose, Jubba Sahani and Pandit Shahdev and I want to respect them and I pray to Chatthi Maiya to make Bihar free from Jungle Raj and Paltu Ram in 2025," Shah said.
He said that when people have voted for Lalu Prasad Yadav, Bihar was bound to witness the Jungle Raj.
"When you have given the vote to Paltu Ram, he dreamt of becoming the prime minister. He has cheated the mandate. He has done same more than six times," Shah said.
He said that Nitish Kumar wanted the post of convener in INDIA bloc for himself but others did not like it. "He is waiting to exit from that bloc but he is not finding a way out. The people had voted for NDA to save themselves from Jungle Raj but Nitish Kumar broke the alliance for his own political interest," Shah said.
"I want to ask the people of Bihar if they want 2G scamster or a person who is giving 5G services," Shah said.
He said that the caste based survey is an eyewash and was undertaken in Bihar only to show increased population of Muslims and Yadavs and to kill the rights of EBC.
"Lalu and Nitish should announce the candidate from EBC as a CM face for the 2025 assembly election of Bihar," Shah said.
He said that through caste based survey, they projected themselves as well-wishers of EBC but basically they have cheated and misled them.
"The decision of caste based survey was done at a time when BJP was in power but when the result came in, they hatched the conspiracy by increasing data of Muslim and Yadav and declining the data of EBC. It is an injustice to EBC," Shah said.
He said that Lalu Prasad Yadav and Congress always objected and boycotted backward caste people while Modi has give respect to them.
"Modi government has 35 ministers and 27 of them belong to OBC. He has given constitutional status to the OBC commission, why Lalu Prasad and Congress did not do the same when they were in power in the country," Shah asked.
He said that Modi government has given 27 per cent reservation to the backward class in the admission of Navodaya School, central school, and military school and there is no fee for EBC students.
"Our government has also given 27 per cent reservation to the backward caste people in petrol pumps, gas agencies and scholarship for pre and post 10 class students," he said.
He said that recently G-20 summit was held in New Delhi and leaders from across the world respect Modi.
"He was the one who finished the terrorism and removed Article 370 from Jammu and Kashmir. During the removal of Article 370, Lalu Prasad said that a river of blood would flow in the country and I told him that no one would dare to throw a single stone in Kashmir," Shah said.
IANS