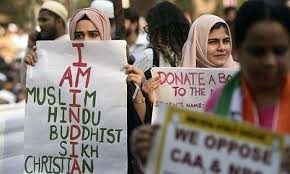 An annual United States report, released on Monday, indicted India on human rights situation underlining that the country in 2022 saw significant "human rights issues", mainly against minorities and rights activists.
Acting Assistant Secretary for Democracy, Human Rights, and Labor Erin Barclay said, "We have and we will continue to strongly urge India to uphold its human rights obligations and commitments."
She said: "Not surprisingly, we also regularly meet with civil society both in the US and in India to hear their perspectives and learn from their experiences, and we encourage the Government of India to consult with them as well."
The annual report, released by US Secretary of State Antony Blinken, mentions human rights violations such as extrajudicial killings, torture or cruel, inhuman, or degrading treatment or punishment by police and prison officials, and harsh and life-threatening prison conditions.
"Human rights activists reported the government was allegedly targeting vocal critics from the Muslim community and using the bulldozers to destroy their homes and livelihoods without due process," the report said.
It is noteworthy that India has rejected similar reports by the US government in the past. The Union government has asserted that India has well-established democratic practices and robust institutions to safeguard the rights of all.
India's criticism by the US is rare in the wake of its increasing closeness. It is said that India is an important ally for the US to counter China in the region.
Commenting on the report, the Reuters wrote: "Advocacy groups have raised concerns over what they see as a deteriorating human rights situation in India in recent years under the Hindu nationalist Bharatiya Janata Party of Prime Minister Narendra Modi." It added that human Rights Watch has said the Indian government's policies and actions target Muslims while critics of Modi say his Hindu nationalist ruling party has fostered religious polarization since coming to power in 2014.
Since Modi took office in 2014, India has slid from 140th in World Press Freedom Index, an annual ranking by non-profit Reporters Without Borders, to 150th place last year, its lowest ever, reported the Reuters.
It is to be noted that India has topped the list for the highest number of internet shutdowns in the world for five years in a row, including in 2022, according to internet advocacy watchdog Access Now.
"Civil society organizations expressed concern that the central government sometimes used UAPA (Unlawful Activities Prevention Act) to detain human rights activists and journalists," the US report said.
-INDIA NEWS STREAM