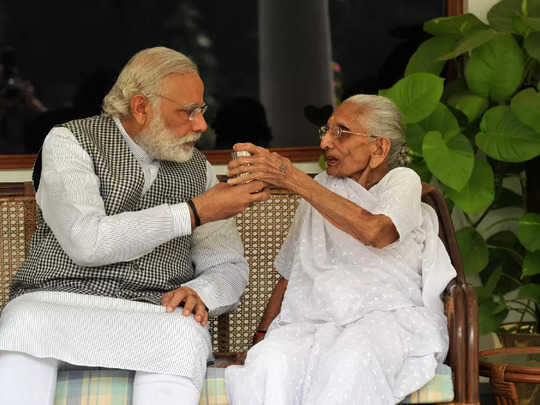 Even as Prime Minister Narendra Modi rushed to Ahmedabad to see his ailing mother, Congress leader Rahul Gandhi extended his love and support to PM's mother wishing her early recovery.
Modi's mother, Heeraben Modi, was admitted to Ahmedabad's UN Mehta Hospital on Wednesday afternoon. The hospital issued a statement confirming her admission to its Institute of Cardiology and Research Centre. "Heeraben Modi, mother of prime minister Narendra Modi, is admitted at UN Mehta Institute of Cardiology and Research Centre in Ahmedabad and her health condition is stable," the hospital said.
Cutting across party lines, several politicians have sent messages to the PM wishing his mother's early recovery. Among the leaders also include Congress MP Rahul Gandhi. Raul Gandhi tweeted: "A bond between a mother and her son is indeed precious. Modi ji, I extend my love and support to you in such difficult time. I hope your mother recovers soon."
The prime minister's mother is in the 100th year of her life. On June 18, Modi tweeted,"Maa…this isn't a mere word but it captures a range of emotions. Today, 18th June is the day my Mother Heeraba enters her 100th year. On this special day, I have penned a few thoughts expressing joy and gratitude."
The news of Heeraben's hospitalisation comes shortly after the Prime Minister's brother Prahlad Modi and other family members were injured in a car accident at Mysuru in Karnataka.
Security around the hospital was beefed up as PM Modi visited his mother.
-INDIA NEWS STREAM