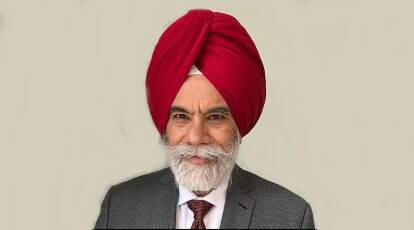 US-based billionaire Darshan Singh Dhaliwal . (File photo)
US-based NRI Darshan Singh Dhaliwal — who received award from President Droupadi Murmu — claimed that Prime Minister Narendra Modi "apologized to him in front of 150 people" for deporting him back to the US during the peasants' protest against farm laws.
Dhaliwal was sent back from the Delhi airport on the night of October 23-24, 2021, for arranging a langar for protesting farmers at Delhi's borders. Dhaliwali, who migrated to the US in 1972, received the Pravasi Bharatiya Samman Award on Tuesday. He was recognised for his contribution in business and community welfare.
"He apologised to me in front of 150 people over the fact that I was sent back and added 'humse badi galti ho gayi, aapko bhej diya, par aapka bahut bada badappan hai jo aap humare kehne pe phir bhi aa gaye (We committed a mistake by deporting you but you were gracious to accept our invitation)," said Dhaliwal, according to a report published in The Indian Express. Dhaliwal said the conversation happened last April when Modi hosted a large Sikh delegation at his official residence in Delhi.
Dhaliwal was quoted by the media saying, "PM Modi is really going out of his way to work with the Sikh community, both inside and outside India. He is doing a lot for the country. And I don't know what else can he do?"
The news of Dhaliwal's Dhaliwal selection for the award evoked a lot of interests in the public as it  indicated a change in the stance of both, the Narendra Modi government towards him and vice versa.  Dhaliwal reportedly praised Modi.
However, according to Hindustan Times report, Dhaliwal was shocked to hear his name for the award. He said: "It has come as a shock for me. In fact, this is the second shock given to me by the Indian government within two years. This time, I am pretty glad that the Indian government has recognised my work for the Indian diaspora in the US," he said.
Dhaliwal is known for his philanthropy works in India and abroad. He owns over 100 petrol and gas stations in the US across six states. A name to reckon with in philanthropic work, he had also set up langar and funded relief work in the aftermath of the 2004 tsunami in Tamil Nadu, given scholarships to scores of students in India and elsewhere