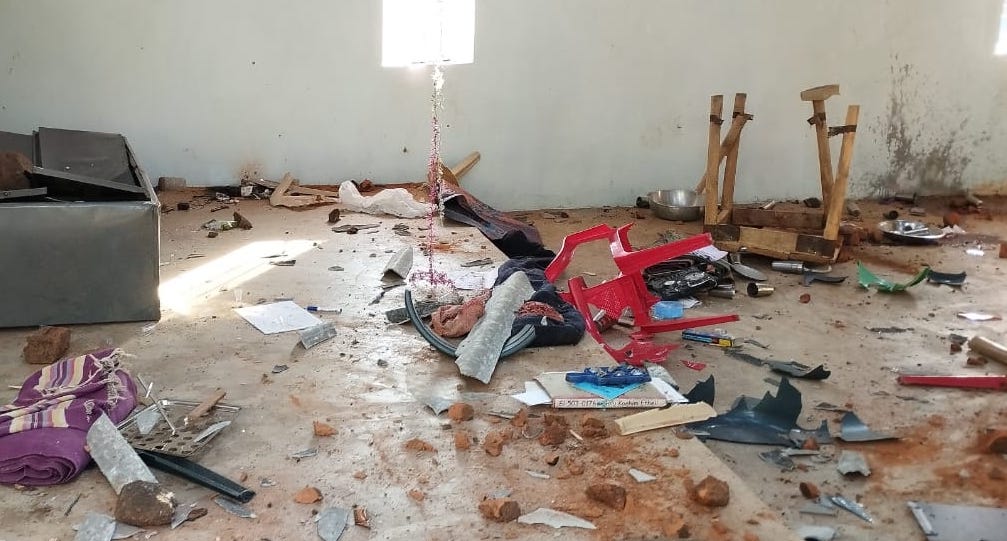 Church vandalised allegedly by Hindutva right wing people in Chhattisgarh. (File photo)
Perturbed over the harassment and intimidation of Christian community, dozens of former civil servants have written to Prime Minister Narendra Modi, complaining that the Union government is doing little to protect religious minority.  The open letter was signed by 93 former civil servants under the Constitutional Conduct Group (CCG).
The group said that that though the principal allegation against the Christian community is of forcible conversion, its share in the position has remained more or less around 2.3% since the 1951 census. "Yet, in the minds of some, this minuscule number poses a threat to the 80% of the population that is Hindu!," added the letter. It further said that the community has been "subjected to attacks – verbal, physical, and psychological, against both their persons and against their institutions".
The letter adds: "It is an unfortunate but inescapable fact that there are elements amongst us who may feel that the denigration of others enhances themselves".
The letter also drew the PM's attention towards the condition of other minorities, underlining that the members of the religious communities are being made to feel strangers in their own country. The letter added that "extremists" have taken law into their hands and are "operating with impunity and at times even with the tacit approval of political or law enforcement authorities."
They underscored that the violent attacks and hate speeches against the minorities can be stopped immediately with just a word from top leadership of the BJP. The former civil servants precisely demanded the Union and state governments to act as per the law of the land.
"As former civil servants, we also know that silence will beget only more violence. Christians, like all Indians now, need to be assured of equal and unbiased treatment by the executive and before the law. It is imperative that you, Mr Prime Minister, give them this reassurance," they wrote.
The letter mentioned some of the recent attacks on the Christians.
In August 2022, under the influence of Hindu extremist groups, more than a thousand tribal Christians were banished from their villages in Narayanpur and Kondagaon in Chhattisgarh because they refused to be converted to the Hindu faith.
On January 2, 2023, a mob of fifty people barged into a church in Chhattisgarh's Narayanpur district and vandalised it, attacking even the SP and other police officers who tried to control the trouble. Among the people arrested for this mayhem is a BJP leader.
In January 2023, a group of forty goondas pledging allegiance to a Hindutva outfit, accused the teachers of a Catholic school travelling from Gujarat to Belagavi of trying to convert people to Christianity.
In January, at a 'dharma sansad' in New Delhi, a sadhu shrilly exhorted the audience to slaughter Muslims and Christians. Ignoring all this, persons spewing hatred against Christians have been appointed to high office, even to the judiciary!
-INDIA NEWS STREAM