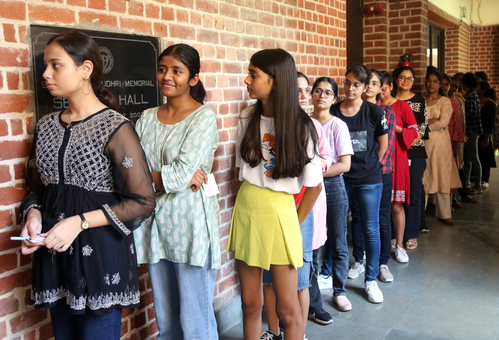 New Delhi: The National Students' Union of India (NSUI) on Friday — during the Delhi University Students' Union (DUSU) polls — claimed that fake voting was conducted at Lakshmibai College, adding the college administration was also involved in the irregularities.
Targetting the Akhil Bharatiya Vidyarthi Parishad (ABVP), the NSUI said "Delhi University has become a puppet in the hands of the ABVP". The varsity, however, has dismissed the allegations.
NSUI Delhi in-charge Nitish Gaur said the university administration was pressurising people "to vote in favour of the other group".
Meanwhile, the ABVP has dismissed all the claims as "lies", saying "the students are voting of their own free will and a lot of enthusiasm can be seen among the students regarding voting".
ABVP's Aparajita, who is contesting for the post of Secretary, said: "I am visiting various colleges of Delhi University. I am appealing to all the students of Delhi University, especially the girl students, to cast vote for ABVP.
"ABVP is the only student organisation that has fought for women's rights on campus and women's empowerment in the university. I fully believe and request that our sisters at Delhi University will exercise their right to vote. Their representation, their voice in DUSU and their vote in favor of ABVP," she added.
On Friday, the North Campus of Delhi University was seen painted in the colours of the student union elections.
Voting for the student union elections had started since morning. At many places, students who came to vote for the first time were presented with roses.
In some places, security personnel were seen using drones to monitor the overall scenario.
Besides, in some spots, arrangements were made to provide cold water to the students who came to vote.
A total of 24 candidates are in the fray for four posts.
Voting took place in the morning colleges of Delhi University from 8.30 a.m. In the evening colleges, it would be held from 3 p.m. to 7.30 p.m.
The student body polls are being held in Delhi University after a gap of three years.
DUSU elections were held last in the year 2019-20.
After that, the polls could not be held due to the Covid-induced crises.
IANS