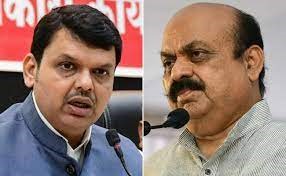 A fresh war of words broke out between chief ministers of Karnataka and Maharashtra
A fresh war of words broke out between chief ministers of Karnataka and Maharashtra – the two BJP ruled states – over border dispute. The decades-long dispute flared up with Maharashtra deputy chief minister Devendra Fadnavis and Karnataka chief minister Basavaraj Bommai attacking each other.
Won't forfeit even an inch, says Shinde
Reacting to the development, Maharashtra CM Eknath Shinde proclaimed on Thursday that they wouldn't forfeit even an inch of land. Fadnavis on Wednesday assured that no village from Maharashtra will go anywhere, replying to which Bommai called his statement provocative. It with statements from both the BJP ruled states  Deputy Chief Minister Devendra Fadnavis after Bommai claimed that villages in Maharashtra's Sangli district passed a resolution wanting to merge with Karnataka after facing an acute water crisis.
What is the age-old dispute?
The dispute dates back to 1960 since the reorganisation of the states on the linguistic lines. It is often referred to as the Belagavi or Belgaon border dispute, where Maharashtra wants to claim back Belgaum (also called Belagavi) district and 80 other Marathi-speaking villages which are in the control of the southern state. Following a memorandum from the Maharashtra government on 23 June 1957, the Government of India constituted the Mahajan Committee on 5 June 1960 to decide on the reorganisation of Belagavi, but no agreement could be reached and the case now lies before the Supreme Court. Maharashtra has insisted that nearly 865 border villages/cities, including the likes of Nipani, Belagavi (previously Belgaum), and Karwar, should be merged with the state. Meanwhile, Karnataka has declared its rights on 260 Kannada-speaking border villages that are part of Maharashtra.
Current development
The latest controversy erupted after Maharashtra CM on Monday appointed two ministers Chandrakant Patil and Shambhuraj Desai to coordinate with the state's legal team on the pending matter ahead of the hearing in the Supreme Court. The matter was earlier scheduled for November 23 but has been deferred. Meanwhile, Karnataka CM Basavaraj Bommai reportedly claimed that some villages on the border passed resolutions to merge with Karnataka in the past. He said on Monday that the state has formed a formidable legal team of senior lawyers to deal with the border dispute when it comes up in the apex court.
Maharashtra leaders stand united
Maratha groups and political leaders protest Bommai's statement. Shinde echoed remarks by Maharashtra Deputy CM Devendra Fadnavis, who said the state government will fight strongly to claim Marathi-speaking villages, including Belagavi, Karwar, and Nipani. The opposition in Maharashtra also took potshots at the BJP, which is incumbent in both states. Moreover, former CM Uddhav Thackeray said Bommai seems "possessed."
(With agencies' inputs)