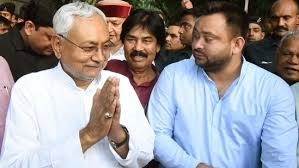 In a significant political development, Bihar Chief Minister Nitish Kumar on Tuesday said that his deputy and RJD leader Tejashwi Yadav would lead the ruling coalition in the 2025 Bihar election.
The statement has come as a setback for the opposition parties who were in the hope that a grand political alliance would emerge ahead of 2024 general elections as the remark virtually meant that the countdown of his Nitish's political career has begun. After parting away with the NDA, the Bihar CM held consultations with several regional parties in an effort to form a formidable opposition alliance to defeat Narendra Modi in 2024.
"I am not the Prime Ministerial candidate or Chief Ministerial candidate. My goal is to defeat the BJP," Nitish Kumar said at a meeting of MLAs belonging to Bihar ruling coalition. "Tejashwi has to be encouraged," he added.
On Monday at a function in Nalanda, he had said: "We are doing a lot. And if there's anything left to do in the future, then Tejashwi will keep working and will get it all done. Those who want to divide us, don't try to create trouble at anyone's bidding. We must stay united and work together. There should be no friction."
"Tejashwi is here, I have done whatever I could to take him forward, I will take him even further ahead. You all can see and understand everything. All our officials are working well. Listen to what I am saying. This is not my personal view. Whatever we are doing, we are following the path of Gandhi," he said.
Incidentally, this is not the first time that Kumar has spoken about Tejashwi's future role. On at least two occasions in Patna, he had said, "Ab isko aage badhana hai sab dekhna hai…sikhana hai (Now we have to push him (Tejashwi) forward.. he has to look after and learn)," reported Hindustan Times.
Commenting on the statement, Tejashwi Yadav said: "For now, 2024 (national election) is the goal. Everything else will come after that."
The Yadav scion last month had also praised Nitish Kumar. He had said that he was the luckiest man to work under the stewardship of Nitish.  "Even if there's a minor mistake in the documents, it might slip past bureaucrats and me, but the Chief Minister spots it," he had said in praise of Kumar.
– INDIA NEWS STREAM