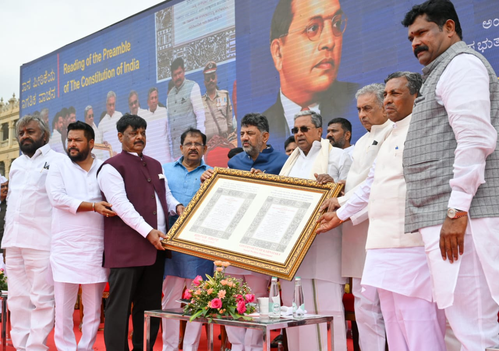 Bengaluru: Karnataka Chief Minister Siddaramaiah on Friday said that anti-Constitutional forces were conspiring to implement Manusmriti in the country.
He was addressing an event involving the reading of the preamble of Constitution of India organised on the occasion of International Day of Democracy by the Social Welfare Department at Vidhana Soudha in Bengaluru.
"One should be aware and careful about the conspiracy," CM Siddaramaiah said.
The destruction of the Indian Constitution and implementation of Manusmriti meant pushing 90 per cent of the Indian population into slavery. "Many conspiracies are hatched to achieve this," he warned.
"Our Constitution begins with the sentence 'We the people of India'. If the objectives of the Constitution are not understood and followed, the creation of an equal society will remain a distant dream," CM Siddaramaiah stated.
"Our government has implemented welfare schemes of all as per the objectives of equal society and welfare principles of secularism. Our programmes intend to give money back to them," he said.
CM Siddaramaiah further stated that the democratic system came into existence after the implementation of the Constitution. "Democracy is rooted in this ground from the times of Buddha and Basava. The discussion in Parliament during the implementation of the Constitution holds mirror for anti-Constitutional mindsets and the importance of the Constitution.
Millions of people from all over Karnataka joined CM Siddaramaiah in reading the preamble of Indian Constitution. Schools and colleges, government offices and gram panchayat offices organised the programmes.
More than 2.31 crore persons, including bank and corporate sectors have enrolled for reading of preamble.
"The objective of reading the preamble is to create awareness on freedom of women, freedom of press, protection of human rights, communal harmony and dignity of life to all," stated Minister for Social Welfare Dr. H.C. Mahadevappa.
IANS