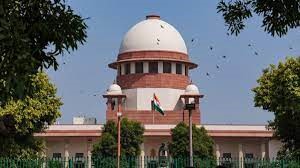 New Delhi, Jan 17 (IANS) The Supreme Court on Tuesday queried the Centre, if the transfer and posting of bureaucrats is under the control of the Centre, would this arrangement not dilute the functional control of a democratically-elected Delhi government.
The bench also told Centre that its argument that Union Territories (UTs) cannot have Public Service Commissions (PSCs) is very dangerous.
A five-judge constitution bench headed by Chief Justice D.Y. Chandrachud asked Solicitor General Tushar Mehta, representing the Centre, how can the Delhi government can say that a particular bureaucrat is not fit for the job. Mehta said they can send a letter to the Lt Governor and it will be sent to the Ministry of Home Affairs (MHA), and "it is never refused".
At this, Chief Justice Chandrachud said: "That is a matter of accommodation and practice."
The bench – also comprising Justices M.R Shah, Krishna Murari, Hima Kohli, and P.S. Narasimha – said that an officer cannot be removed unless there is a green signal from the MHA. Chief Justice Chandrachud queried Mehta, "will not that dilute the function control?…..question is about posting".
The top court is hearing a case between the Delhi government and Centre in connection with the administrative control over transfers and postings of civil servants.
During the hearing, the top court also queried that if Jammu and Kashmir has a PSC, why can't Delhi? The bench told Mehta that his argument that UTs cannot have a PSC is very dangerous.
The top court noted that Parliament has powers to make laws for any part of India and even if the matter is in the State List, Parliament can exercise power in that area. "So even, if it is matter in the State List, Parliament can still exercise power on that area for a UT, which is not even on the State List… there can't be PSC for UT, can be a very dangerous argument, you (Mehta) are ceding ground," the CJI said.
Mehta said the Delhi government has control over the clutch and brakes and only make of tyres is done by LG,and if still they cannot drive, then there is some issue with their driving ability. The bench emphasised that the most important is where to post an officer – whether as Secretary of Finance, Education, Environment etc.
It added, "suppose if they (Delhi government) find someone not functioning effectively in that particular role… but they cannot switch officers…".
The top court will continue to hear the matter on Wednesday.
Earlier, the Delhi government had argued that if the Centre controls the bureaucrats' postings and transfer, then it would amount to the babus working for Delhi government but their master being someone else. The Delhi government said this arrangement would create an insubordinate bureaucracy making governance impossible.