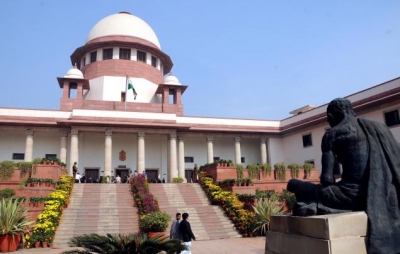 New Delhi: The Supreme Court on Wednesday questioned Additional Solicitor General (ASG) S.V. Raju representing the Enforcement Directorate (ED) in the PMLA case against former Delhi Deputy Chief Minister Manish Sisodia, on why the political party was not an accused yet.
Before rising for the day, the court asked the ED to reply to the query on Thursday.
The political party in question here is Aam Aadmi Party (AAP).
A bench headed by Justices Sanjiv Khanna and S.N.V. Bhatti heard Sisodia's bail plea in two petitions concerning the Central Bureau of Investigation (CBI) and the ED.
Senior Advocate Abhishek Manu Singhvi representing Sisodia's bail petitions in the apex court, made extensive arguement in his favour on Wednesday.
While appearing for Sisodia, Singhvi told the bench that the now-scrapped excise policy is an institutional and collective decision spread over multiple-levels.
He cited seven meeting by group of ministers that preceded the policy decision.
Singhvi explained to the court that due to cartelisation of private manufacturers, profit margin went up to 70 per cent following the old policy.
The new policy was based on Ravi Dhavan committee's suggested reforms.
In the new policy, manufacturers were not linked as retailers, however in old policy, manufacturers could be retailers, Singhvi told the court.
Singhvi further added that there is one main charge sheet and two supplementary charge sheets, and 31,423 documents and in total 294 witnesses in the CBI case.
In the PMLA case, there is one prosecution complaint, along with 4 supplementary complaints with 21, 465 documents and 162 witnesses, he added.
Singhvi said that in total there are 50,000 documents and over 500 witnesses in cases against Sisodia.
To which Justice Khanna replied that there will be some common witnesses.
While hearing the petitions filed by Sisodia, Justice Khanna remarked that given the fact that the court is not going into the wisdom of the policy, it becomes a question of quid pro quo.
So, the question on which the bench will decide is if the policy was causing loss to the govt or benefit to the third party.
Justice Khanna asked Singhvi to argue on these points.
Singhvi also argued on the credibilty of approvers and said that it actually deserves an inquiry as to how their statements were obtained.
"This Court has held that the statement by an approver should not be given much credence. An approver is the most untrustworthy witness." he said.
The bench will continue hearing the case on Thursday.
IANS