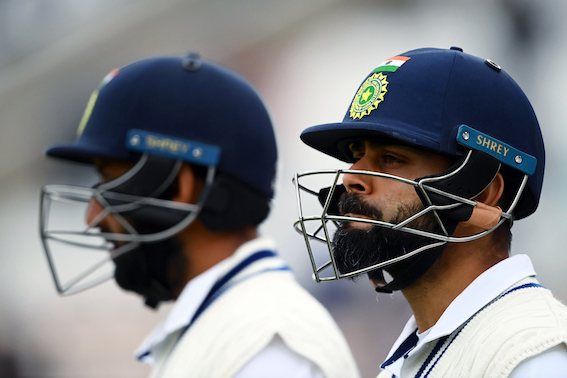 UK, June 23 (ANI): Indian skipper Virat Kohli and Indian's Cheteshwar Pujara during the World Test Championship final match between New Zealand and India, at the Rose Bowl in Southampton on Wednesday. (ANI Photo/BCCI Twitter)
Going into the sixth and final day of World Test Championship final, the New Zealand team was staring at a possible defeat at the hands of Team India.
With 32 runs ahead and skipper Virat Kohli and 'Mr Dependable' Cheteshwar Pujara batting in the middle, there was hardly a chance that India could let this opportunity go to either win or force a draw against Black Caps, who were to bat last on a wicket still looking juicy for swing bowlers.
But Kyle Jamieson changed the complexion of the entire match just in a spell.
The 26-year-old Jamieson, who started his career late and that too as a batsman, changed it all in the first hour of the day. Having taken five wickets in the first, Jamieson dealt the hardest of blow by removing Kohli and Pujara to end all India's prospects in the game.
Kohli failed to read his length both times that he fell to Jamieson in the match. And Pujara was consumed for third time in six encounters in almost identical fashion.
Jamieson bowled 247 dot balls out of 276 deliveries bowled by him during the entire match. And he showed that he can beat a batsman not only with the pace, but can also effectively deceived them by swinging the ball both the ways.
From 32 ahead on Day 6 with two down, Indians were now 40 ahead and four down. There was hardly any reprieve for the Indian batters as Tim Southee + Trent Boult + Neil Wagner had made life miserable from the all ends.
In the end, New Zealand chased down a 139-run target without much trouble.
Playing with Duke ball, the difference between both the teams was the ability of both sides' seamers to swing the ball. While Indian pace attack of Ishant Sharma and Jasprit Bumrah were mostly trying to hit the deck before getting the ball swing either way, it was only Mohammed Shami who had the rightful approach to pitch the ball on right areas to get help from the mostly overcast conditions in Southampton.
In the hindsight, one could say that Bumrah was not the right choice for conditions like those in Rose Bowl because of his unnatural 'deceptive' action and tendency to generate pace from the wicket. It was not the surface but the conditions there to exploit and Bumrah can never be the right person for such conditions, even in future.
But for Ishant's experience of one-and-half-decade now, it's hard to understand how he has not learnt the art of exploit conditions which are so vital for any pacer to survive in Test cricket. He has refused to come out his mindset of a 21-year-old who once upon a time in Australia forced their skipper Ricky Ponting to hop on his short-pitched deliveries.
Is it time for split teams?
Another thing that has been debated over last few days was whether Virat Kohli picked the right playing eleven for such an important Test?
There is no doubt that Rohit Sharma and Shubman Gill have been the two most exciting cricketers in the team, but when it comes to playing in overcast conditions and where ball is doing a bit than what we are used to in the other parts of the world, we need a player with impeccable batting technique.
And there are players to support such an argument. Be it Kane Williamson of New Zealand or Joe Root of England, the two most respected batters in swinging conditions. Kohli have had a touch choice to go with more technical sound batsman like Mayank Agarwal at a time when Gill strokeplay has won many hearts back home.
That's why an in-form KL Rahul was ignored, or even continued to be, so blatantly in Test matches against Australia early this year, despite being the most successful on those pitches till then.
But the most important factor which cost India the WTC final was the twin failure of Pujara, India's backbone on any touch surface over the years. Pujara has shown in the recent past that his technique has been failing him slowly but surely. Frequent injuries and knee operation has started taking toll on his body.
He is no more the old Pujara India had always looked upon to save matches overseas. And any cricket pundit watching his bat coming from slip area would understand how his technique is failing him as well his team on important occasions.
The net result was in front of all. Pujara managed 8 off 54 balls in the first innings and consumed 35 balls for his first run. He then scored just 15 runs off 80 balls in the second essay.
Another of Team India's asset on foreign pitches, Ajinkya Rahane, is also looking like a shadow of his prime where he used to be highest run getter in trying conditions. Rahane, though, is more of a victim of team's internal politics where Mahendra Singh Dhoni first, and then his successor Kohli has never allowed him to settled down in the team.
Rahane's only fault was that he has always been looked upon as a replacement of successive captains, ruling over him. Despite scoring consistently, Dhoni always described him as someone who cannot rotate the strike before Kohli too kind of ignored his contributions.
Rahane may have won the toughest series in Australia early this year after Team India produced the lowest ever total of 36 under Kohli in day-night Test, but he has failed to cement his own place in the team.
In the trying circumstances in Australia, India came out triumphed because there was patient batsman on the other end, Hanuma Vihari, to allow a stroke-player like Rishabh Pant to play his strokes freely. And when Vihari was unavailable for last Brisbane Test, it was Washington Sundar playing with utmost patience under pressure.
The challenge ahead
Kohli, himself, understands that the WTC loss would not go down well with the cricket fanatics in India.
The Indian skipper didn't take any names but expressed his displeasure at some players for not showing enough "intent" to score runs. But with five-Test series against England coming up, Indian team management hardly has time to put house in order.
But if India fail to perform against England, Kohli's own position would be in danger. There is an urgent need to bring in right people with right mindset to perform in Test cricket for India.
The past 13 years have transformed the world cricket forever. Or for that matter, it has given lessons on how international teams use their resources.
The success of T20 game has been instrumental in encouraging specialisation. Back in 2008, when Indian Premier League was played first, no one actually thought that transition would be so quick.
And now when the Big Bash League or Bangladesh Premier League or Caribbean Premier League have started forcing a separate window for almost all the top T20 professionals, several national cricket boards have been trying to have separate teams for separate formats.
One such example is India's first ever 'second string' team for Sri Lanka One-day and T20 series, when already 16 of the chosen best are involved in England. Shikhar Dhawan being skipper for Lankan sojourn is one such example how the things are going to be in the near future.
One thing is for sure… No cricketer across the globe can take pressure of playing all formats in a situation like present where life is revolved around in a 'bio bubble'. Players are risking not just physical health but also the mental health and the possibility of risked injury or burnout if they signed up for everything. Over the past decade, many players have complained of mental fatigue and taken time off from cricket field to spend time with family and friends.
New Zealand have been careful about playing top seamer Tim Southee in all kind of formats. Rather, Southee has been rested from inconsequential shorter format matches to prolong his Test career. In fact, India need to learn from Kiwi cricket board who have included six players — Boult, Colin de Grandhomme, Mitchell Santner, Southee, Ross Taylor and Williamson — in approximately 70 per cent of New Zealand's international fixtures in 2018-19 and subsequently.
Even England has been following a very strict rotation policy for all their players.
The challenge for any specialist Test seam bowler is immense as he has to maintain a strict line and length for any longer format series. But his entire length and mindset changes when he is playing in shorter format, especially in T20s.
That's the reason that England's most successful and match-winning seamer Jimmy Anderson has left T20s for Chris Jordan for many years now!
— India News Stream
The writer is a senior sports journalist based in New Delhi. He can be reached at: shekhar.luthra@gmail.com