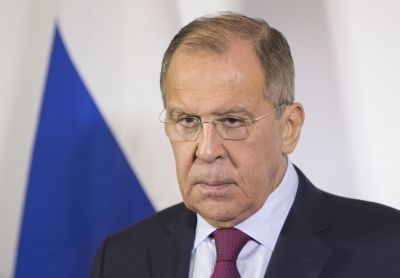 New Delhi: Russia's Foreign Minister Sergey Lavrov on Thursday said that the country's war with Ukraine has been termed as an "invasion" by the West, because it was the Western bloc which was preparing for a war since many years, and therefore was arming Ukraine for it.
Addressing a press conference after the G20 Foreign Ministers summit, he said: "This invasion (of Ukraine as per the West) reflects the reaction to the war the West was preparing for many years and that is why it was arming the Ukrainian regime."
Attacking the West, Lavrov said that the Western nations were conquering lands and exploiting the people.
"Unfortunately, West did not drop its neocolonial habits. It is still promoting their interstes without considering interests of global community," he said.
The Russian Foreign Minister added that despite sanctions against his country by the Western nations, almost none of the developing nations joined those sanctions, as they are aware of the "kind of game West is playing".
"Some of them (nations) under pressure say certain things or vote in a certain manner to relieve themselves from US pressure but almost no developing country, almost none of them, joined sanctions under Russia because they are aware what kind of game West is playing," he said.
"It is in the UN charter that every state must adhere to the sovereignty and territorial integrity of any other state," he said, adding that Russia has never stood against any state or any country developing foreign ties with any other state.
Strongly advocating reforms in the UN Security Council, he said: "It is high time to reform the UN Security Council."
Lavrov appreciated Prime Minister Narendra Modi's address earlier in the day, saying, "PM Modi presented a balanced and responsible position. He was not just speaking about some isolated individual situation, because the West is trying to divide the geopolitical picture. He gave an assessment of the situation across the globe."
He described Russia's relationship with India as a "privileged strategic partnership".
"This reflects the special character of the relationship. We appreciate the responsible stand India is taking on key global agendas," he added. – IANS