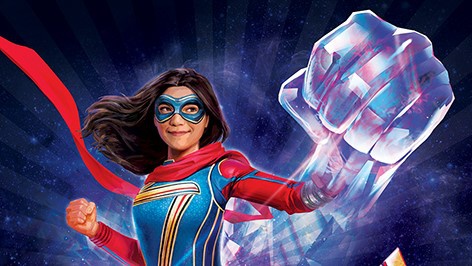 Ms. Marvel is the first female Muslim superhero TV series by Marvel Studios. It is groundbreaking in many ways, it shows South Asian Muslim culture with grace and breaks many stereotypes about Muslims.
Ms. Marvel is created by Pakistani-origin Muslim writers and editors. In this TV and web series, the protagonist is a Pakistani-origin female superhero and is also acted by Pakistani and Indian actors.
The Marvel editor Sana Amanat created the character 'Kamala Khan' along with the lead writer of the series Bisha K. Ali based on Marvel Comics.
Ms. Marvel stands out by showing the actor wearing Hijab and feeling comfortable in it. Women wearing Hijab were shown empowered not forced. These scenes are very strong and can be an antidote to increasing islamophobia across the world.
In a scene, Kamala's close friend Nakia played by Yasmeen Fletcher remarks that She feels comfortable and strong while wearing Hijab, nobody imposed it on her.
Iman Vellani portrays the character of superhero Kamala Khan a Pakistani-Canadian actress and she says Muslim represeantantion was missing in movies. Vellani told the media, "I do think this is going to kind of inspire more Muslims and South Asians to tell their story because, you know, this is one singular representation of the Muslim experience. so I don't think we can represent all two billion Muslims and South Asians, but it's a start, and it's great that we're showing Muslims on-screen having fun."
The series also has Bollywood references, especially about the movies of Indian superstar Shahrukh Khan. In the second episode, Kamala (Iman Vellani) and Kamran (Rish Shah) talk about 'Baazigar 'or 'Dilwale Dulhania Le Jayenge ( DDLJ)' being the best Shah Rukh Khan movie. While Kamala remarks, "There is no such thing as a bad SRK movie."
In a small video shared by Disney Hotstar, a scene shows Indian filmmaker and actor Farhan Akhtar is also part of the Ms. Marvel series. There is also a buzz that Pakistani actor Fawad Khan may also do a cameo in the MCU series.
Marvel fans in both India and Pakistan are hailing Muslim representation in the film.
A Twitter user wrote, " I am very glad that Marvel isn't shying away from Kamala's religion at all and they're showing us more and more of her as a Muslim that's going to be such impactful representation."
Ms. Marvel is now streaming on Disney Hotstar from June 8 with new episodes dropping every Wednesday. – INDIA NEWS STREAM