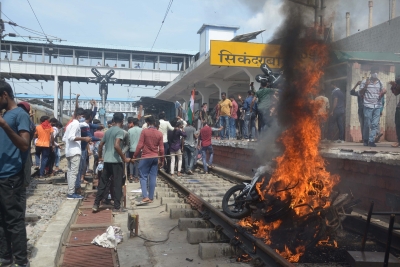 New Delhi: How does a democratic state deal with breakers of law? The obvious answer is by subjecting them to the law of the land. But if it deals with the violators by giving a go by to all laws, it is really disconcerting.
If the power of the state is to be used without regard to the law of the land, there is no need of any judiciary, any constitution. Undermining democratic institution is itself a great violence with the country, with its people, with its ethos.
What has happened in Delhi, Uttar Pradesh and other states, where authorities bulldozed houses of those accused of violence without reportedly following the due process of law, has caused a great concern among the civil society, both inside and outside India.
We Indians have been proud of the democratic institutions of our country, of our Constitution which has drawn on the best in the constitution of the world's great democracies, and is permeated by the spirit of the "Sarva Dharm Sambhav" of India's own great traditions.
The country still has not forgotten the high handedness of authorities during the Emergency. Those in power at the Centre have vowed that they would never allow such thing to happen again, and so they have a special responsibility to stop state governments from doing anything that goes against the law of the land.
We used to look with satisfaction over the functioning of our democratic system when we compared the state of democracy in our neighbourhoods, but today we feel that we are losing this edge. The reputation of being a stable democracy is priceless, as it affects the country in a number of ways, strategically, economically, in the long run. Democratic values and institutions take long to get entrenched, so by striking at their roots, we might be causing an irreparable loss to the country, though it might result in temporary benefit to a certain, social, economic and political section.
Protests happen in all democratic countries, and they have sometimes turned violent too. Whether it is protestors in Prayagraj and or those protesting against the Agnipath scheme, they all have to be treated equally by law if they indulge in violence. Those who indulged in violence over remarks of the two BJP office-bearers against Prophet Mohammad have certainly done a wrong and a foolish thing. They should be punished, but only by following a due process of law. In a democratic country, there are many fora where citizens can express their anger and anguish if their religious sentiments are hurt.Suspended BJP spokesperson Nupur Sharma should have been countered academically over her Prophet remarks by those aggrieved, instead of taking law in their land. However, it in no way justifies that authorities too should violate law in dealing with such persons.
Houses were reported to have been demolished without proper notice and without being given adequate time. Under the law, if a house has to be raised, its owner and occupants should be given enough time to remove their valuables. The arguments given is that these were illegal constructions, but why these illegalities should be noticed after the structures have stood for decades. Why it should be noticed only after its owners or occupants take part in any protest. Victims claim that they have been paying all taxes and water and electricity bills to authorities.
When the matter was taken to the Supreme Court through a petition, the apex court observed that demolitions have to be in accordance with the due process of law.
Issuing notice to the state, the apex court bench of Justices A.S. Bopanna and Vikram Nath remarked that the demolitions can't be a retaliatory measure."Everything should look fair, we expect the authorities to act only in accordance with the law. Ensure safety so that nothing untoward happens," the apex court said.
–INDIA NEWS STREAM