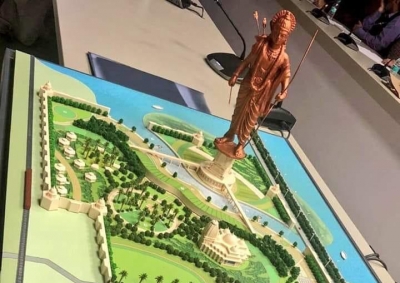 Bengaluru: Sri Ram Sena national president Pramod Muthalik has stirred a controversy by demanding the termination of Muslim workers and contractors appointed to carry out construction of the Ram temple at Ayodhya.
Speaking to reporters in Bengaluru on Wednesday, Pramod Muthalik stated that he had made a written submission in this regard to the Vishwaprasanna Theertha Swamiji of Pejawar Mutt in Karnataka who is a member of the Sri Ram Janmabhoomi Trust.
Muthalik said that the story of the reconstruction of the Ram temple in Ayodhya is laced with the blood and sacrifice of thousands of Hindus. "The hardcore Muslims are even today claiming that they would defy the judgment of the court and get the Babri masjid constructed again after destroying the Ram temple… It is not tenable to involve the community with such a cruel mindset in building the Sri Ram temple in Ayodhya," he maintained.
Muthalik stated that the Sri Ram temple is not just a building, it represents the sentiments of crores of Hindus.
India is well known for its sculptures and sage Vishwakarma is the pride of Indians. Appointing Muslims for the Sri Ram Mandir work is an insult to the Vishwakarma community whose main livelihood is sculpture, Muthalik claimed. The Muslim contractors and workers involved in building the Sri Ram temple must be sacked and the work carried out by Hindu artisans and workers.
"The contract given to the Jia Ul Usmani company owned by one Ramazan and others should be terminated," he demanded.
IANS