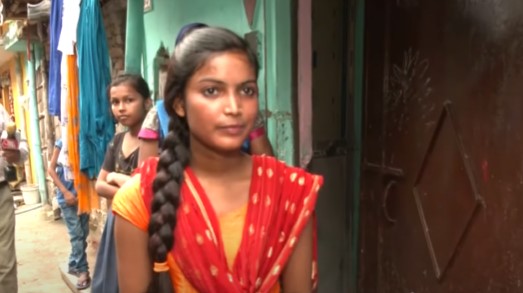 Source: ANI Videograb
The 20-year-old Bihar school girl who was rebuked by an IAS officer for seeking cheap sanitary pads gets an advertisement offer from a sanitary pad company and sponsor for education.
As per media reports, the Indian sanitary pad manufacturer PAN Healthcare Pvt Ltd said it would provide a year-long supply of sanitary pads to Riya. Other than the commercial TV ad, the company will also bear the expenses of Riya's studies till her graduation.
"Menstrual hygiene has been considered a taboo subject discussed in hushed voices for generations. This must change. We need many more girls to come forward and boldly demand open discussions about period bleeding. We salute Riya's courage to speak up on this subject on a public platform with confidence. A year's supply of Everteen's neem and safflower sanitary pads is just a small token of our appreciation for her conviction to put an end to the bloody hypocrisy around menstruation that pervades society at large. We will also bear the cost of her education fees through her graduation," company's CEO Chirag Pan was quoted by Economic Times as saying.
Riya Kumari hogged the limelight last week when she asked IAS officer Harjot Kaur, "Can the government give sanitary pads at Rs 20-30." Kaur replied: "You will eventually expect the government to give you family planning methods, condoms, too." At that, the student said the government comes to them to seek their votes. The IAS officer angrily replied: "This is the height of stupidity. You don't vote and go to Pakistan. You are giving a vote to take money and facilities from the government?"
The utterances of Harjot Kaur caused a massive stir, prompting Chief Minister Nitish Kumar to take appropriate action "if anyone found guilty" would be punished. On the other hand, the National Commission for Protection of Child Rights (NCPCR) also asked the Bihar government to conduct an inquiry and take action against the alleged remarks.
Ms. Kaur, who also heads the State's Women and Child Development Corporation, organised the workshop in partnership with UNICEF and other local organisations in the state capital. However, the IAS officer on Thursday tendered an unconditional apology.
-INDIA NEWS STREAM