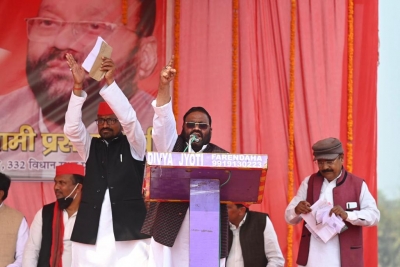 Lucknow, Jan 29 (IANS) The controversial statement made by Samajwadi Party (SP) leader Swami Prasad Maurya on Ramcharitmanas is now being shrewdly turned to advantage into a casteist issue by the Samajwadi Party.
After almost a week after the controversy unfolded, Samajwadi Party president Akhilesh Yadav has indicated solidarity with Maurya and attacked the Bharatiya Janata Party (BJP) by saying, "The BJP considers us backwards and Dalits as shudras (untouchables)."
Explaining further, he said, "The BJP has a problem with us going to 'their' religious places and seeking blessings from seers. I have asked Swami Prasad Maurya to take forward the work on the caste census."
Apparently, the Samajwadi Party wants to hit back at BJP's OBC and Dalit outreach with their new strategy.
Akhilesh, on Saturday, had sought blessings from Maharaj Dandi Swami Ramashreyji, Yogi Rakesh Nath Yagyadhakshyaji and Mritunjaya Bharavi ji of Madhya Pradesh's Pitambari Peeth at a yagya held on the banks of Gomti river.
"But BJP men disturbed the religious ritual. Some BJP workers attempted to prevent me from going to the event. They even jostled with some disciples and people. Some BJP, RSS men are threatening the saints and organisers who had invited me," said Akhilesh in a statement issued here.
He further said that he had gone there out of devotion and reverence, so what problem did the BJP have with this? The BJP was responsible for anarchy at the venue of the event, he alleged.
He further said, "Now I understand why my NSG security cover was withdrawn, why my security was reduced and why my house (the CM residence), was washed with Gangajal when I vacated it. Because we mean nothing to the BJP."
Meanwhile, Maurya refused to apologize for his remarks and said that he had objected to certain verses in Ramcharitmanas that target Dalits.
It may be recalled that last week, Swami Prasad Maurya demanded that the government ban Ramcharitmanas written by Goswami Tulsidas or delete certain portions of it, saying that the Hindu text had painted a bad picture of the majority population of backwards and Dalits.
Maurya had said Tulsidas accorded low caste to 'Shudras'. He had said, "Crores of people have either not read or do not read Ramcharitmanas. All this is rubbish. This was written by Tulsidas for his own happiness."
A Lucknow resident lodged an FIR against him for "hurting religious sentiments". The FIR was lodged at the Hazratganj police station. He was booked under IPC sections 295-A, 298, 504, 505(2), and 153-A.
Section 295-A deals with deliberate and malicious acts intended to outrage the religious feelings of any class by insulting religion or religious beliefs.
IANS