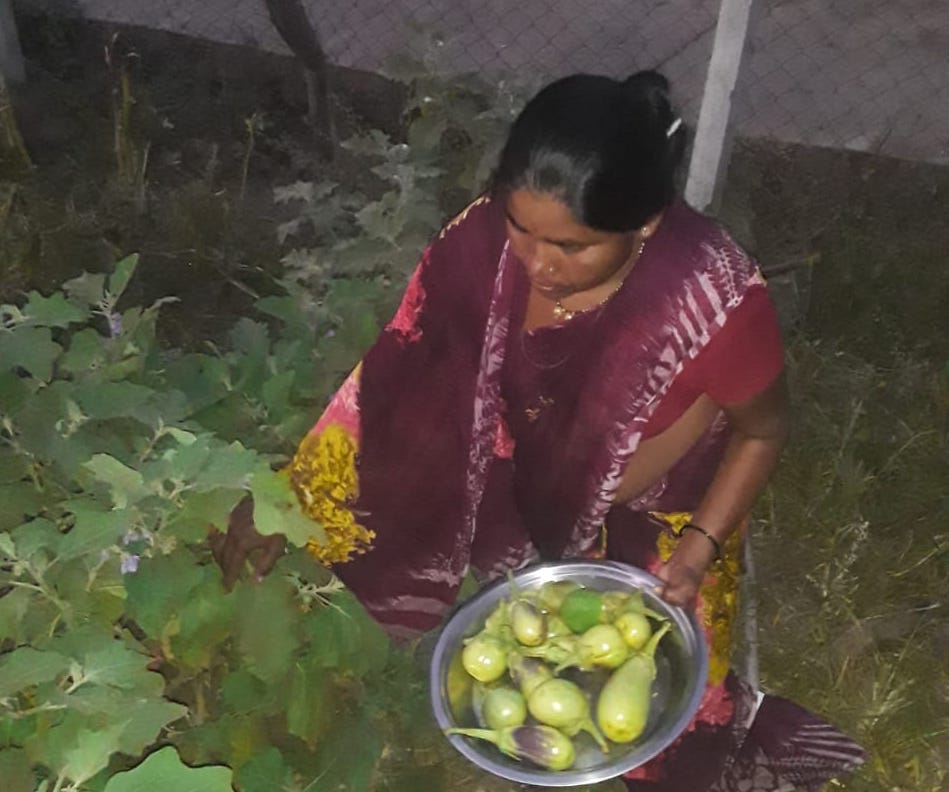 New Delhi: The National Family Health Survey-5 data shows that 67.1 per cent of children in six to 59 months age group and 57 per cent of women between 15 to 49 years suffer from anaemia which impacts their health, growth and development. About 20 per cent of maternal deaths are directly linked to anaemia.  Nutrition deficiency is the main cause of anemia in India arising from gender disparity among other reasons. The survey said that the incidence of anaemia had worsened in almost all states.
Alert to the situation,  Dilnawaz Varaiva, 78, from an industrialist family in Mumbai and a management expert, decided almost a decade ago to devote her attention, wealth, time, energy and emotions to address the serious problem. She involved her family trust, the Sahayak Trust, to tie up with active and dedicated NGOs in the heavily inflicted Vidarbha region to join hands in tackling anaemia and mal-nourishment through cultivation of kitchen gardens that grew nutrition-rich local vegetables and fruits.
Without any monetary help from the government, her Anaemia Free Vidarbha Forum (now Anaemia Free India Forum) spread its wings into working with a network of dedicated NGOs who committed themselves to a cause of removing anaemia and mal-nutrition from the region. Today, the Sahayak Trust is working with a network of over 467 NGOs in five states.  In Maharashtra alone the Trust, in collaboration with Mahila Arthik  Vikas Mahamandal,  is working with 37,000 women entrepreneurs, self-help groups, anganwadis and schools in setting up kitchen gardens that grow nutritional vegetables and fruits.
A mini study in Gadcharoli district in the state showed that after intervention of NGOs  the hemoglobin levels amongst people eating nutritious foods from their kitchen garden  increased by 1.25 to 1.45 per cent, which is no mean achievement.  "Our focus is on self reliance and sustainability rather than external funding and project-based support. We neither take funds nor give any," she told this writer.
"Our USP is not only spread of knowledge, technology and passion, but spreading systematically and trying to collect data to validate what we are doing. We want to alleviate nutrition deficiency anaemia through awareness, training in low-cost, self reliant and sustainable measures,'' she says.
How the Kitchen Garden Works? Women, who are usually to last to eat and tend to be more mal-nourished, are encouraged to pick out some piece of space (even 250 square feet) near their kitchen or outside their house to do chemical-free organic gardening of nutritious vegetables and fruits. These include cluster beans, beans, spinach, cow pea, okra, ridge gourd, brinjal, bottlegourd, tomato, amaranth red, gogura (Mesta), pumpkin, moringa etc. They plant for their family needs. Soon the entire family starts taking interest in the kitchen garden as health levels improve. NGOs do not encourage a family to sell their produce. However, the money saved from consuming home-grown nutritious vegetables and fruits are money earned and women are proud to add to the family kitty.
Public Health workers in villages involved kitchen gardens have reported higher immunity and lesser incidence of disease in consuming families. One woman reported that she had not visited a hospital for two years since she turned to organic kitchen gardening. Besides, the family gets enough to eat.
"We have only one earth, lets live sustainably and in harmony", is the simple message the trainers impart to women entrepreneurs  on Organic Kitchen Garden for Nutrition (OKGN).
Said Sunita Deokar of Karla village who attended a three-day training programme: "I have developed a kitchen garden for nutrition and have sown 30 varieties of vegetables including fruit trees, vegetables and flower trees. Last year we produced 20 to 25 extra bottle gourds which we sold in our village. We also kept some for seed conservation. No medicines or chemical fertilizers were used in the kitchen garden.''
Apart from imparting sowing and conservation techniques for organic farming, trainers give simple tips to their students such as intake of protein rich diet, consumption of 6 to 8 glasses of water daily, eating more vegetables and fruits for healthy living in tune with natural ecology and harmony.''
They are also taught about the importance of living organism in the soil which must not be extinguished by use of chemical fertilizers and about the role of birds, bees, butterflies and other insects in producing food through pollination and pest control. Conservation of water is at the crux of very lesson whether in schools, anganwadi or in training camps.
The kitchen gardens are operational eight months of the season. "In the rest of the four months we are planning to train the kitchen garden entrepreneurs in hydrating vegetables and fruits for storage. Then we plan to teach them how to re-hydrate so these foods are available to them throughout the year. We are also broaching the subject of interesting recipes from nutritious foods,'' says Dilnawaz.
And, soon the NGOs will reach out to urban areas starting with Bhopal in Madhya Pradesh. The idea is to have terrace and balcony organic gardens. But first they will do pilot projects.
(Gargi Parsai is a senior journalist based in New Delhi).