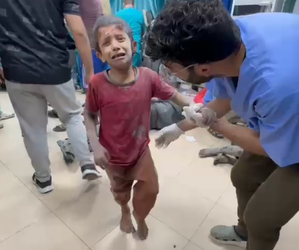 Tel Aviv: The Emergency medical centre in Hamas-run Gaza Health Ministry has alleged that one child is killed and two are injured in every 10 minutes of Israel's aggression.
In a statement on Sunday, Moatasem Salah, Director of the Emergency Centre said 3,900 children have been killed and 8,067 children injured since Israel started attacking Gaza.
It further said that 1,250 children are still missing.
The statement also added that 70 per cent of those killed in Israeli aggression were children, women and the elderly.
Israel has been bombing Gaza since the October 7 Hamas attacks in which 1,400 people were killed and at least 239 people kidnapped as hostages.
IANS