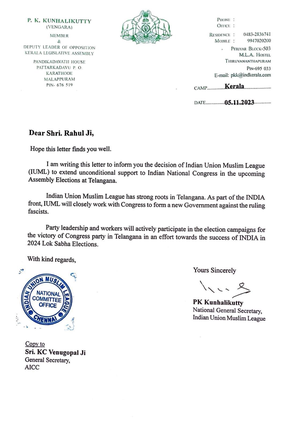 Hyderabad: The Indian Union Muslim League (IUML) has decided to extend unconditional support to the Congress party in Telangana Assembly elections.
IUML national general secretary P. K. Kunhalikutty conveyed his party's decision to Congress leader Rahul Gandhi.
"Indian Union Muslim League has strong roots in Telangana. A part of the INDIA front, IUML will closely work with Congress to form a new Government against the ruling fascists," he wrote to Gandhi.
"Party leadership and workers will actively participate in the election campaign for the victory of Congress party in Telangana in an effort towards the success of INDIA in 2024 Lok Sabha elections," he added.
Elections to 119-member Telangana Assembly are scheduled to be held on November 30.
IANS