RIYADH: Khalid Khan, one of the best-looking young actors, who enjoys massive popularity in the online space and is loved by his army of fans because of his looks, his dancing grooves, and acting skills, is a rising star from north India. The 26-year old actor, who rose to fame and prominence after starring in a few films, television serials, and music videos, is all set to step into the Hindi film industry if he is offered some good projects with interesting storylines.

Today, Khalid ranks as a front-runner among Indian social media stars, who has earned popularity through the lip-syncing app, TikTok. With 800,000 plus followers on TikTok and more than 24 million likes, Khalid is considered one of the popular TikTok stars in India. Not only on the lip-syncing app but Khalid is also popular on other social media platforms including the photo-sharing app, Instagram. Khalid Khan has set username on TikTok as @khalid_pathan00.
In an interview with indianewsstream.com, Khalid shared his vision for the future with special reference to his endeavors to enter mainstream Bollywood films. He has already acted in 'Shriman Shrimati' with a top-notch actress Rani Chatterjee. The film Shriman Shrimati has been jointly produced by Sandeep Singh and Ajay K. Jha, while the music for the film is composed by Ashish Verma. He said that there are young people of all ages who dream of making it big in Tinseltown. "For most, Hollywood recognition is simply a whimsical fantasy, but for some, their dreams become reality," said Khalid, who is planning big with optimism.

The actor said that he is exploring the possibilities to meet top producers and actors in Mumbai with his profile. Khalid, who hails from a small Maswanpur Mohalla of Kanpur, is a great performer known and loved across all the nooks and corners of north India. As a young boy, he trained himself extensively in dance and acting during his stay at the prestigious Mumbai-based Kishore Namit Kapoor Acting Institute. This Mumbai-based film institute appreciated the performance of Khalid and also awarded a diploma in acting to him in 1996. His acting journey started with his random performances in the institute and on the streets of Mumbai.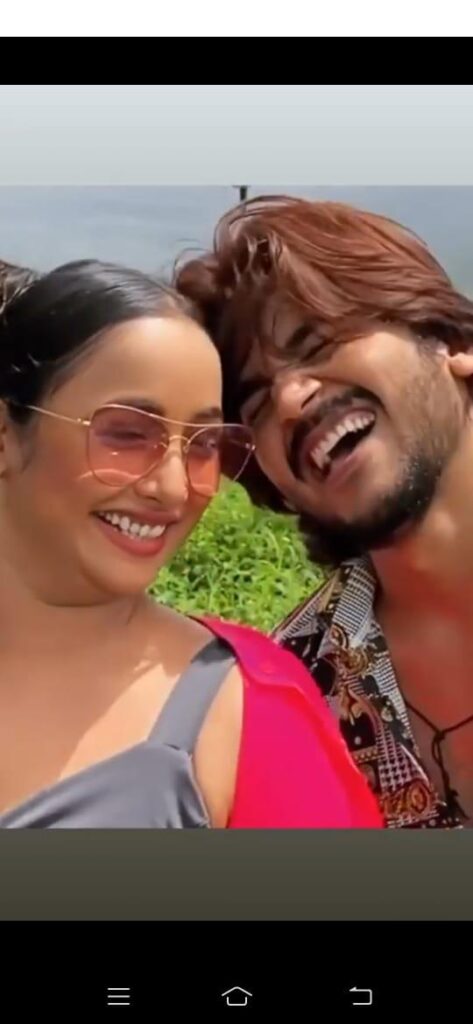 Narrating the story of the early days of his career, Khalid pointed out that he first appeared in a famous serial 'Ye Rishta Kya Kahlata Hai', which airs on Star Plus and streams on Hotstar. This serial was premiered on January 12, 2009, and is one of the longest-running Indian television soap operas. "This brief appearance in the serial emboldened me to opt for a career in the film and television industry," said the actor, whose upbringing in a lower-middle-class family itself is a plot for a movie. Khalid has now been shuttling between Mumbai and Kanpur in search of works in films while working for music videos and performing on other digital platforms.

Khalid, who lost his father Sayed Ahmad Khan at an early age, did not lose heart and continued his education with a passion for films. His mother Shabana Khan, a school teacher, stool like a rock behind Khalid, lending all support to him to pursue a career of his choice. He said that he is fortunate to have a mother like Shabana, who has had a special liking for him since his childhood. He recalled that his mother will often dress up Khalid and do make up, and take her to the school functions during his childhood. For Shabana, Khalid was a precious munchkin, squishy cutie, and angelic baby boy besides being a showpiece and a perfect bundle of joy.

Asked about his role in the web series, Actor Khalid said that he did a video in Binge! Mohalla Premier League besides working for web series called Mannphodganj Ki Binny. Continuing its winning streak with successful web series, MXPlayer added Mannphodganj Ki Binny, which is a wholesome entertainer. "A 10-episode web series, produced by Applause Entertainment and DJ Creative Unit, Mannphodganj Ki Binny takes a potshot at the state of relationships and marriage system prevalent in our society," said Actor Khalid, while referring to his recent performance in another web series for Zee5.

Zee5, he said, is an Indian subscription video-on-demand and over-the-top streaming service, run by Zee Entertainment Enterprises. It was launched in India on 14 February 2018 with content in 12 languages. The ZEE5 mobile app is available on Web, Android, iOS, Smart TVs, among other devices. Khalid further pointed out that he played a leading role in the production of seven music videos with a leading actress Akshara Singh. He said that it was indeed a pleasure to work with Singh, an Indian actress primarily active in Bhojpuri films and, a recipient of several awards.

Singh is known for her roles in films like action drama Tabadala, political drama Sarkar Raj and action romance Satya. She is one of the highest-paid actresses in Bhojpuri cinema. Some song numbers in which Khalid and Singh are seen together including 'Phalanwa Ka Beta' and 'Jaye Na Debo' were instant hits. Moreover, Khalid's steady stream of thrillers and fast-paced dramas on stage have brought him considerable attention. His skills coupled with athleticism and daredevil nature were well displayed in action videos, dance clips, and acting.

Born on April 2, 1995, in a lower-middle-class family of three siblings, Khalid has a rapidly growing social media profile with about 115,000 followers on Instagram. He is also credited with uploading about 90 songs of Bollywood in which he has performed as a top-notch expressive dancer with varied facial expressions. He has a huge fan following in Delhi, UP, Bihar, Orissa, West Bengal, and Maharashtra besides several foreign countries including Nepal, Bangladesh, Saudi Arabia, Bahrain, Kuwait, Qatar, Pakistan, and the UAE.

Asked about his future plans, Khalid said: "I am trying my best to grab a good role from a commercial film of Bollywood, let's see how fortunate I am." He said that "it has become a necessity for new budding actors to be active on social networking sites. Filmmakers tend to look at the number of followers you have on social media platforms to determine your popularity." "Film producers think that the number of followers you have on social media translates into the number of tickets the film will sell", said Khalid, while calling on the Yogi government of UP to promote new talents.

He said that the new film city project of the UP government on the lines of Hollywood will go a long way in promoting the new talents and in providing ample opportunities to new artists like us. To this end, it is important to note that the Uttar Pradesh government has already approved a detailed project for the construction of India's largest film metropolis, estimated to cost Rs 6000 crore. This new Film City will give a fair chance to artists belonging to the northern part of the country. World-class modern technologies are to be incorporated in this film city with special studios for shooting serials and films, animation, web series, cartoon films, documentaries, digital media etc.
–INDIA NEWS STREAM