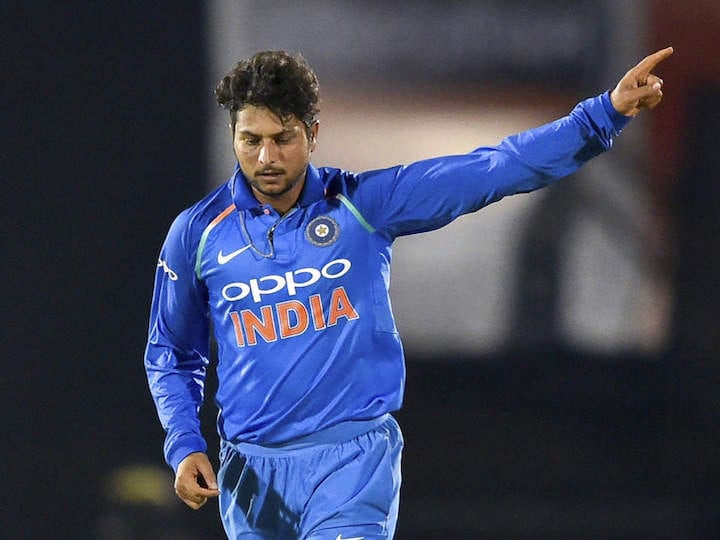 Kuldeep Yadav, the Player-of-the-Match in the first Test against Bangladesh, was replaced in India's starting line-up for the second Test by Jaydev Unadkat. There was bound to be criticism for such a rash decision. Especially, when someone like Unadkat, returning to Test squad after a long 12-year absence, left-arm seamer was included as third seamer after Mohammed Siraj and Umesh Yadav in the Playing XI.
Ravichandran Ashwin and Axar Patel made up the two spinners. One can always defend Unadkat's inclusion by citing his patience in finding his way back following outstanding Ranji Trophy performances. But the fact remains that Kuldeep did no wrong during the series to be sitting out.
So, there was someone like Unadkat who missed 118 Test matches in between his last appearance and then Kuldeep who was made to sit out after his match-winning performances against hosts Bangladesh.
Kuldeep's Test cricket career thus far has been anything but smooth. Kuldeep has frequently served as the third spinner, spending a significant amount of time outside the XI, as India typically prefers the combo of Ashwin and Ravindra Jadeja at home and one of them outside Asia. He has participated in eight Test matches since making his debut in March 2017. His best match performance to date came at the Chattogram Test (first Test against Bangladesh), where he recorded match figures of eight for 113 for the first time since February 2021.
Before this, the last Test Kuldeep Yadav played was 22 months ago. He spun his way back to notice and success now that he has re-joined the Team India Test family. Kuldeep was named the Player-of-the-Match for picking up eight wickets in India's 188-run victory over Bangladesh as the visitors went 1-0 up in the two-match series.
In addition to his contribution with the ball, Kuldeep also contributed with the bat, scoring a crucial 40 in the first innings when players like KL Rahul, Shubman Gill, and Virat Kohli were unable to perform.
The left-arm unorthodox spin bowler has bowled in 14 Test innings so far in his eight-Test old career. And whatever his Test career suggests till now, but in five of those 14, he has claimed four or more wickets. A wicket is taken by him almost every six over. In the eight Tests he has played in seven series spanning five-and-a-half years, he has taken more wickets than he has bowled maidens.
Kuldeep once more demonstrated on the third day of the Chattogram Test how his success is being aided by the increased speed of his deliveries. The left-arm Chinaman recorded five for 40, the highest statistics of his career and the best bowling figures by any Indian spinner in Bangladesh.
The issue with Kuldeep's career thus far was that he was only ever selected in the side when the team needed an extra spinner — usually the third spinner — despite the fact that this is a rather tiny sample size to assess his true value. Kuldeep has every reason to believe that the selection committee or team management are treating him unfairly. However, there wasn't much of a choice for the Team India captain to select him ahead of Ravichandran Ashwin or Ravindra Jadeja.
But Kuldeep doesn't belong to any ordinary class. He possesses an art, which is not easy to develop in today's world where emphasis is being given to shorter or white ball format. Such is Kuldeep's bowling that even late Shane Warne, the legendary wrist spinner from Australia, loved to watch him.
Despite having a memorable debut against Australia in 2017 where he took four first innings wickets at Dharamshala, the 28-year-old Kuldeep got limited opportunity to play in six more Test matches over the next four years. Not to forget that when India won their first-ever Test series in Australia in 2019, he claimed a five-wicket haul in Sydney.
Every single member of the squad received a game except Kuldeep when the team travelled back to Australian soil to defend the Border-Gavaskar Trophy a few years later.
He has had a similar luck in the One-day cricket. Someone who has two hat-tricks to his name is now finding it hard to reclaim his spot in the ODI dressing room. The greatest dread comes true for the opponent when he teams up with another wrist spinner Yuzvendra Chahal. However, the situation now is such that it is extremely difficult for both of them to play together in the squad.
But Kuldeep has taken this challenge positively. Whenever he is given his limited opportunity, he has always appeared stronger, both mentally and physically. That's what was at display against Bangladesh after 22-month long absence.
Kuldeep was just on a roll after a career-best bowling performance of five for 40 in 16 overs in the longest format of the game and a 40-run cameo with the bat to propel India above the 400-mark. He outperformed Anil Kumble and Ravichandran Ashwin with his first innings stats in Bangladesh, making them the greatest by an Indian spinner.
Kuldeep took three wickets in the second innings to finish with career-best match figures of eight for 113 to justify the faith shown by stand-by skipper KL Rahul and chief coach Rahul Dravid.
However, Kuldeep's subsequent decline in limited-overs cricket in between those infrequent Test matches has been severe, possibly even more so than the team combinations. He has occasionally lost all credibility, not just with India but also with Kolkata Knight Riders. It turned into a vicious circle. His lack of pace in the air has been the reason for his omission from white ball cricket.
And whenever he tried increasing his pace, he has become less effective. That's the reason he has mostly found himself serving drinks to his teammates there in the middle.
It's not that Kuldeep is not aware of this. He has been continuously honing his bowling in the background. That is clear to see in Bangladesh. The leading arm is working considerably harder, the running in is straighter, the rear foot is landing parallel to the crease, and the bowling arm is getting a little closer to the ear.
Bowlers with extraordinary potential like Kuldeep must exercise patience in such circumstances. But he may benefit greatly from a bit more support from the team skipper. In the past, too, Ajit Wadekar or Tiger Pataudi were the ones with the patience to wait until their four elite spinners had a chance to settle in before beginning to pick off wickets.
Kuldeep has shown that change in Chattogram. One could see how Kuldeep performed the work in the air for two of his wickets before any off-pitch activity was involved. First ball from Kuldeep drew Shakib Al Hasan out of his crease, and the ball drifted in drastically to force him to cover his mouth when he guarded in front of the body. When Shakib began to move, the ball was outside the offside zone and ended up pitching on or outside the leg-stump.
The next one was for Mushfiqur Rahim, who failed to judge the flight of his delivery and didn't move forward. But once more, the drift and dip caused a space to form between his bat and the ball's pitch. The ball had time to turn around the bat and catch him on the crease because the bat travelled wider than it should have.
Nurul Hasan was done in by a sensational catch at short leg, but the ball turned in sharply, making him play when he could have let it hit the pad. That wicket should have satisfied Kuldeep because apart from the drift that dragged Nurul across, the turn was so quick he ended up throwing his hands at it in panic.
The 28-year-old has improved his bowling by adding more diversity, such as pace off the wicket. People used to remark that he consistently beat batsmen in the air but that he wasn't very quick off the pitch, but he has now added that element to his range.
One can only hope that his latest return to Team India would be remembered fondly. Kuldeep has experienced everything a cricket player could ever hope for, and in such a short amount of time.
However, once these obstacles have been overcome, the path forward is always easier!
The writer is a senior sports journalist. He can be reached at
@shekharluthra