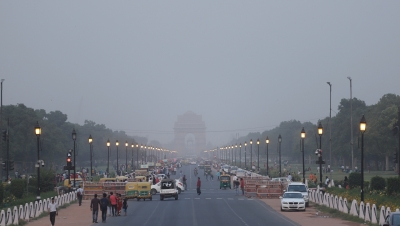 New Delhi: Despite concerted efforts to improve the air quality in the national capital during the high-profile G20 Summit in the national capital this weekend, the Air Quality Index (AQI) has taken a turn for the worse.
While multiple agencies have implemented measures around the summit venue, 13 hotspots in Delhi continue to exert a negative impact on the AQI.
According to sources, Delhi Chief Secretary Naresh Kumar has issued an order for rapid mobilisation to prepare Delhi for the Summit scheduled to take place on Saturday and Sunday.
The Delhi government also bears the significant responsibility of ensuring clean ambient air quality during this event, given the presence of several international leaders.
"In the early days of September, Anand Vihar and Mundka have been identified as areas with poor air quality. Immediate action is imperative to sustain satisfactory air quality across Delhi. As part of this effort, ACSO officers will serve as nodal officers in 13 hotspots, including Anand Vihar, Vivek Vihar, Dwarka, Okhla, Vajirpur, Ashok Vihar, RK Puram, Bawana, Narela, Jahangirpuri, Rohini, Mundka, and Punjabi Bagh," a source revealed.
These officers will be responsible for tasks such as mechanical road sweeping, water sprinkling, deploying mobile anti-smog guns, conducting road repairs, and converting unpaved roads into paved ones.
Their primary mission is to ensure improvements in air quality in hotspot areas.
Additionally, the Delhi Pollution Control Committee (DPCC) has established 30 special mobile teams to maintain air quality at the appropriate standard across various parts of Delhi.
According to a report from the Central Pollution Control Board (CPCB) released three days ago, Delhi's AQI stands at 136, while Faridabad's is at 126, Ghaziabad 133, Greater Noida 172, Gurugram 151 and Noida 142, all falling under the 'Moderate' category.
It is expected that air quality will remain in this category for the next three days.
IANS