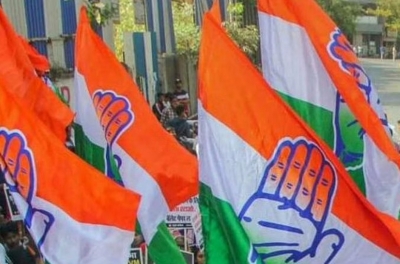 Lucknow: The Congress high command has firmly snubbed state party leaders from issuing statements regarding seat sharing among INDIA bloc members in Uttar Pradesh, said sources on Sunday.
The move comes after the SP leaders took a strong view of statements being issued by UP Congress leaders, and the SP president even accused the Congress of betrayal.
A Congress source admitted that the party high command had warned the state leaders against making any comments on the party's relationship with SP.
Former Chief Minister Akhilesh Yadav told reporters in Hardoi on Saturday that he had got a message from the topmost leader of the Congress through someone.
"If that leader is saying something, then I will accept it," he said.
Akhilesh had taken an aggressive stance against the Congress since last week, following failure in seat-sharing for the forthcoming Madhya Pradesh Assembly polls.
The SP began announcing candidates on MP seats and then released the party's MP polls manifesto. Akhilesh Yadav has been accusing Madhya Pradesh Congress President Kamal Nath and former MP Chief Minister Digvijaya Singh of "betraying" the SP despite assuring seats in a seat-sharing talks with SP delegation.
He also took umbrage at UP Congress Chief Ajay Rai's statements against the SP and went on to call him a 'chirkut' (worthless).
Akhilesh had threatened that if the INDIA bloc was not for the states' elections and was only meant for the Lok Sabha elections, then he too would think over the alliance in Uttar Pradesh when the time came.
Talking about the past relationship with the Congress, Akhilesh in Hardoi said: "Dr Ram Manohar Lohia and Netaji (Mulayam Singh Yadav) in the past had said that when the Congress is at its weakest and when they need us, they will reach out to us; and we should support them… We will follow our tradition. During the nuclear deal (India-US deal) we stood with them."
IANS