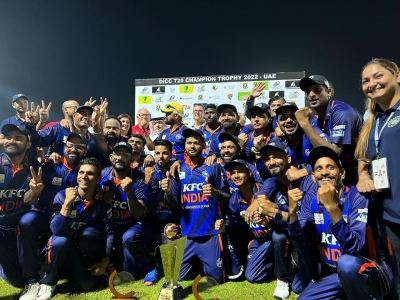 New Delhi: Mahendra Singh Dhoni began preparing much earlier after learning that India would compete in the 2011 World Cup under his leadership.
India performed like a unit then to bring back the Cup after a long wait of nearly 38 years. And now 12-years down the line when India again is going to host the One-day WC event after some nine months, the team looks too much in disarray with more than 20 players are ready to stake their claim after performing here and there during last one-and-a-half experimenting years under chief coach Rahul Dravid and skipper Rohit Sharma.
The experimentation refuses to end, even when we are already well into the year 2023. Having finished playing matches against Sri Lanka, India is currently hosting New Zealand, and Australia is the next to come in for a three-match series in the pre-Indian Premier League (IPL) phase.
Though there have been official press releases about managing the workloads of each player going into the October-November World Cup, there is no word about whether or not key players will have the option to skip the cash-rich IPL in order to prevent any injuries, or the show will go on as usual despite losing star players like Rishabh Pant (due to a road accident), Ravindra Jadeja, or Jasprit Bumrah due to non-stop cricket in the last 18 months.
Workload management and injury rehabilitation are two areas where the BCCI has failed miserably in the last few years. Though BCCI officials often boast of having great bench strength that could put together two or even three national teams, But in real life, when was the last time a "fully fit or best-playing XI" took to the field?
The answer is probably not known to anyone.
Challenges for the captain
The story is incomplete without discussing skipper Rohit Sharma, whose own fitness has been questioned in recent months. The Team India leader is constantly worried about getting injured. Being a captain, he does not always have the opportunity to rest.
His chances of competing in the 2023 World Cup are seriously questioned by all these issues. The player will be 36 by that time, and the only practical way to keep him around for this important event if he plays on until March is to take a break in the IPL in 2023.
And we all know how tough or impossible that is for a star player like Rohit, or for that matter, any other big name like him.
A BCCI insider, though, claims that India's cricket itinerary is being prepared with utmost care, keeping in mind the World Cup towards the year's end. In February, Australia will be touring India to fight for the Border-Gavaskar Trophy. For India, the series result line will determine if they make it to the World Test Championship in June. If anyone is expecting Rohit or any key player to miss such an important series, then think again.
However, Rohit and coach Dravid would be under tremendous pressure to ensure that India keep the Cup at home. Both have played five 50-over WCs between them (Dravid in 1999, 2003, and 2007; Rohit in 2015 and 2019), but the two have never been world champions.
Rohit, however, has a more glorious WC record than Dravid in this regard. His five hundreds in the 2019 edition were easily the best effort by any Indian batter so far in the history of the World Cup. He would certainly want this Cup more than anyone else because this could well be his swansong from the white-ball format.
BCCI has a much greater role in managing Team India's skipper. Whether or not the chairman of the selection committee, Chetan Sharma, admits it, the fact remains that the Indian team has been going through transition difficulties. The uncertainty over the best eleven, along with missing big match-winner Pant, could well deflate the team's bandwagon.
The selection committee also lacks depth and conviction. When the chairman of selection committee was busy in retaining his own position after being "sacked" along other selectors couple of months back, one could well understand his compulsions (whatever) that he must have promised to his bosses before returning back to same position, again!
The reality is that ODI cricket has been an issue for India in recent years, but it is just something that has been overlooked with the focus solely on T20 cricket due to two T20 World Cups taking place in as many years and the 2020 edition getting postponed to 2022 because of COVID-19.
While ODI cricket has not come around too often since then, India has been beaten quite comprehensively away from home by New Zealand (2020 and 2022), Australia (2022), South Africa (2022), and Bangladesh (2021). In 2022 alone, the Men in Blue participated in eight ODI series, playing 21 games in total. Out of those, India managed to win 14 encounters while losing eight.
Two games in New Zealand ended in a no-result due to rain. India failed to win the three-match series as Bangladesh bagged the first two ODIs in Dhaka and clinched the rubber by a 2-1 margin.
The only positive has been England's away series victory earlier this year.
IPL is given precedence over WC?
The biggest challenge for Team India in the World Cup year is to have injury-prone stars like Hardik Pandya, Jasprit Bumrah, Ravindra Jadeja, Rahul, and skipper Rohit Sharma be 100 per cent fit in the month of October.
With Team India's heavy schedule and an extended 10-team IPL starting soon, the billionaire franchise owners would leave no stone unturned to ensure their participation in the coming long season. More matches certainly mean more demand and more injuries. League owners have the right to put pressure on players to tear every tendon in order to win the IPL trophy because they have invested millions in teams.
And don't forget that the franchise teams have always gotten luckier than the national team as and when such situations have arisen.
To make matters worse, two of the most successful teams in the history of the IPL, the Mumbai Indians and Chennai Super Kings, are now participating in Twenty20 leagues outside of India.
If any injury happens to Rohit, Rahul is expected to assume the captaincy. And that's where the problem of plenty will arise as his own place is not certain till date.
A major headache is the batting order
Going by the current form and events, the top batting order is more or less settled, with both Ishan Kishan (wicket-keeper batsman) and Shubman Gill scoring double hundreds in recent days.
Having said that, it could well be bad news for out-of-form Rahul (also can fit in as wicket-keeper), who has now taken leave to get married to a film star's daughter. As and when he returns to action, he could well be asked to bat a little down in the order if skipper Rohit continues to be fit for international duty.
Then comes a headache of sorts for team management to sort out the middle-order puzzle. Team India's current middle order is possibly one of the most inexperienced ever. It is true that Virat Kohli's back-to-back centuries have ensured that he will be there to guide them. though the fact remains that bowlers around the world no longer fear him as they used to do during his heyday.
That's why it will be interesting to watch his development over the next eight months or so. And if he faces any hiccups or injury issues during this period, that could certainly derail India's WC journey.
The second pillar is Suryakumar Yadav (SKY), who is India's Mr 360 degree. But the way he has been treated in recent ODIs by the team management, he could well be in two minds while playing risky shots in this format. The man, who has been India's top-notch batter in Twenty20 cricket, has failed to get 100 per cent backing from either skipper Rohit or coach Dravid till date.
SKY had a great start to his ODI career, averaging 53.40 with a strike rate of 103.08 after eight outings. In the next eight, though, he was dismissed in single digits four times and under 20 on two more occasions.
But counting his recent form and successes in white-ball cricket, SKY deserved to be batting at No. 3 in any format but that's like asking for too much from the current thinktank. If he can replicate his T20I form, SKY could be a game-changer in ODIs as well.
The No. 5 slot is open to being grabbed by either Rahul or the likes of Shreyas Iyer, Sanju Samson (WK-batter), and Deepak Hooda, among others in the mix. All-rounder vice-captain Hardik Pandya, however, will continue to be India's best bet for the No. 6 slot. And if Jadeja is fit to go, there cannot be any replacement for him at No. 7 or any subsequent slot.
Low pace battery
It is the bowling department that is the biggest worry for Team India going into the WC year.
The 51-run stand for the 10th wicket in the first ODI by Bangladesh, which led to their recovery from 69 for six to 271 in the second ODI late December 2022 is ample proof of the same.
Be it taking wickets or controlling, the Indian bowlers are struggling with both. While the pacers have improved in 2022 after almost three years with a horrific record in the powerplay with, the spin dilemma remains huge. The fitness of Jasprit Bumrah could well decide India's fate in the WC. His name in the squad was withdrawn all of a sudden by the Indian Cricket Board (BCCI) has raised many eyebrows as Bumrah, who last played in September, was announced fit after that back injury.
It was Bumrah's absence that led to revival of old horse Mohammad Shami, who was either out with some injury or selection committee apathy. The entire selection panel, led by Chetan Sharma, was keeping him out of T20 games for some time in the name of finding young stars in the shortest format. This led to Shami's form deterioration in other formats and since November he was sitting out with shoulder problem.
However, Arshdeep Singh, Mohammad Siraj and Umran Malik are the shining lights in an otherwise worry some times.
The spin department is diverse with the presence of all-rounders Axar Patel and Washington Sundar and wrist-spinners Kuldeep Yadav and Yuzvendra Chahal. The question mark over the inclusion of most experienced off-spinner Ravichandran Ashwin in the mix is as vague as one could judge!
—INDIA NEWS STREAM