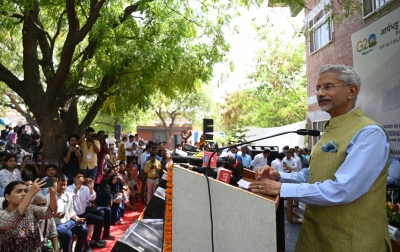 New Delhi: External Affairs Minister S. Jaishankar on Friday criticised the Opposition for taking the country's problems outside, and asking other nations to intervene in India's matters. This, he said, would mean inviting bigger problems for the country.
In an interaction with students of Aryabhatta College in the national capital, he said this while indirectly referring to Congress leader Rahul Gandhi's criticism of the Central government during his recent visit to the US, that "it is concerning, when they take India's problem out in the world and invite people to do something about it".
"If you say that India has problems and great concerns and the world must do something about it, this has big implications and that is not good for the country," Jaishankar said.
Touching upon several measures taken by the NDA government on the global front, the External Affairs Minister praised Prime Minister Narendra Modi, claiming that he has changed the perception about India, which is considered a country that is ready to help other nations and which also shows alacrity in giving a helping hand to its own citizens facing issues in foreign lands.
PM Modi has changed the system in India in a way that the country has become ready to respond to global problems, Jaishankar said.
"India, today, is a vaccine provider. As someone who has spent the last few years working very closely with him, I have never met anyone who has as much faith in the future of the country, in the youth of the country. We have a leader with a vision, somebody with a strong sense of commitment for the country," Jaishankar said while addressing the gathering.
Speaking on India's G20 presidency, Jaishankar said: "One of the biggest benefits of G20 that we are expecting will be seen after 20 years when tourism gets boosted. There are countries which have 20 per cent of their GDP from tourism. Infrastructure, faster and cleaner cities, better talent, a stronger economy will help increase foreign investment in India."
He added that when more and more people will come to India, foreign investment will rise and the infrastructure will improve.
IANS